Scenic USA - New Mexico

Loretto Chapel
---
---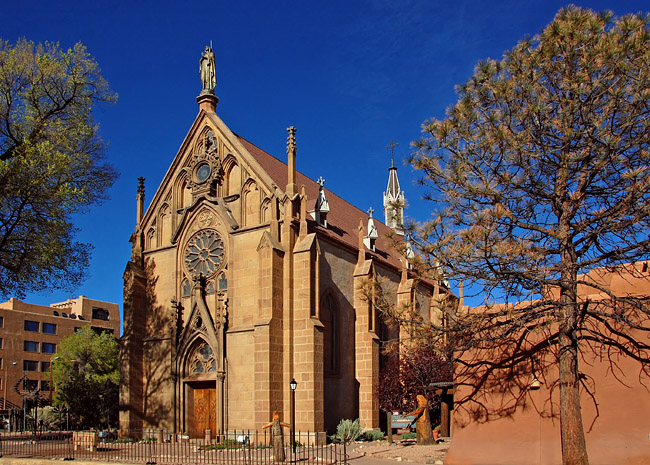 After the United States claimed victory in the Mexican-American War, the Treaty of Guadalupe Hidalgo redefined the borders of the Southwest. This huge section of land,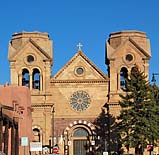 including Nuevo Mexico, stretched from east Texas to the California coast. By this time, in 1848, the capital city of Santa Fe was already 250 years old. Here in the capitol of New Mexico (Nuevo Mexico), now a territory of the United States, Bishop Jean Baptiste Lamy was appointed head of this newly acquired region. Old political alliances continued and many of the priests returned to Mexico. Summoning help from the east, Lamy's request was answered in 1852 by seven sisters from Kentucky. By 1878, the Loretto Sisters opened the Academy of our Lady of Light (Loretto), the Cathedral of St Francis Cathedral was complete, and their very own Loretto Chapel.
   Unlike Santa Fe's surrounding abode buildings, Loretto Chapel was patterned after the Sainte Chapelle in Paris.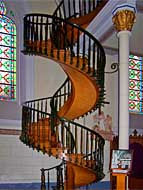 The Gothic style chapel was financed through school tuition, local support and the Loretto Sisters themselves. Stone was brought in from northern quarries, ornate stained-glass was shipped from the Dubois Studios in Paris and its most famous spiral staircase was built on site. This unique staircase is still the subject of great debate today. Constructed in an impossible space, the staircase is unsupported by any central pilar, baffling architectural experts to this day.
   Placing their trust in the Lord, the Loretto Sisters began a nine day novena, praying to St. Joseph for a craftsman to build a staircase. On the ninth day of prayer a man appeared with a donkey and a toolbox looking for work. Laboring on the staircase alone for six months, upon its completion the old carpenter vanished without being paid. Legend hints that the winding staircase may have been built by St. Joseph himself.

    Area Map
---
| | |
| --- | --- |
| Additional Points of Interest | |
---
Copyright © 2013-16 Benjamin Prepelka
All Rights Reserved