Scenic USA - Washington
Scenic USA offers a collection of select photographs from a wide variety of attractions, points of interest, historic sites, state parks and
national parks found throughout the United States. Each photo feature is coupled with a brief explanation.
For further detailed information, links to other related sites are provided.
Portage Bay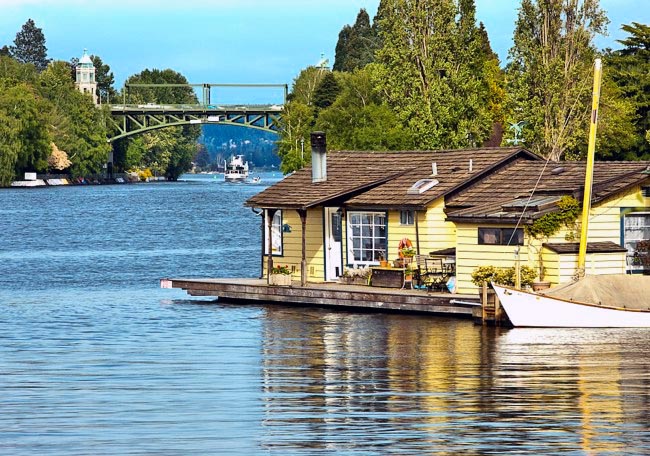 Gently rocked to sleep at night and greeted by the sights and sounds of Portage Harbor in the morning; what could be better than houseboat living? Introduced to movie fans throughout the country, the film Sleepless in Seattle made living on the water seem romantic. Here in Seattle's Portage Bay and Lake Union, houseboats now total about 500.
Still supporting one of the largest floating communities in America, the Seattle area has seen a steady decline over the last century. At the height of popularity, houseboats totaled over 2000. Now floating homes have been completely eliminated from Lake Washington. Environmental concerns, common restrictions, mooring costs and sales prices sometimes reaching two and a half million dollars, have greatly eliminated most new additions. Brought in by tug and connected to all land services, replacement floating home permits sometimes take a few years.
After viewing this peaceful Portage Bay scene, you'll be happy to know there are houseboats in the Seattle area for sale. Prices generally range between 500,000 to 950,000.
Copyright ©2010 Benjamin Prepelka
All Rights Reserved