Scenic USA - California
Scenic USA offers a collection of select photographs from a wide variety of attractions, points of interest, historic sites, state and
national parks found throughout the United States. Each photo feature is coupled with a brief explanation.
For further detailed information, links to other related sites are provided.
Point Montara Lighthouse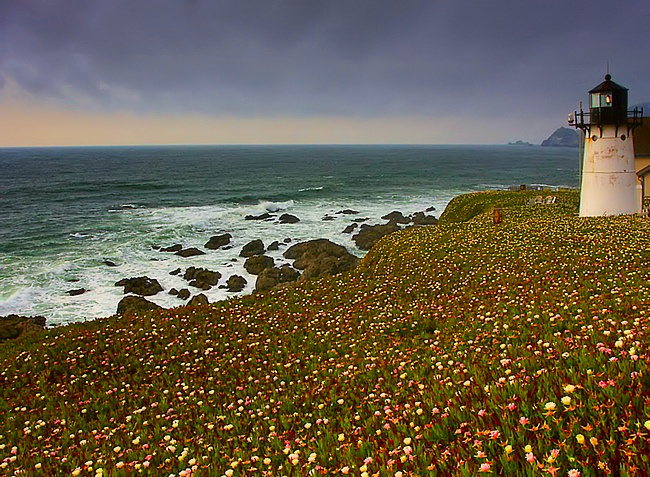 Bicoastal sometimes refers to people who split their time between America's West Coast and the Northeast, typically commuting from Los Angeles to New York. History surrounding the Point Montara Lighthouse, most likely the only bicoastal lighthouse in America, offers a tale of mystery and intrigue. The Lighthouse Digest was first to publish their journalistic scoop, a story about a Cape Cod lighthouse, believed to have been destroyed in the early 1900ís, turning up 3,000 miles away on the California coast.
California's Point Montara Lighthouse tower first stood in Wellfleet, Massachusetts. The vintage 1881 light was known then as the Mayo Beach Lighthouse. At first, most lighthouse buffs believed the tower was demolished when the Cape Cod light-station ceased operations and the keeperís house was sold at auction. A little detective work uncovered more lighthouse history. While sifting through some old Coast Guard photos, the lighthouse move was discovered. It is now known the government actually moved the lighthouse from Cape Cod to Point Montara, California, where it replaced the original wooden Point Montara Lighthouse. Strangely enough, the crew manning the California light never knew their secondhand structure was a long distance traveler.
Now, when looking at this wonderful west coast scene, the Cape Cod style lighthouse may look slightly out of place.
Copyright ©2008 Benjamin Prepelka
All Rights Reserved