Scenic USA - Arkansas
Scenic USA offers a collection of select photographs from a wide variety of attractions, points of interest, historic sites, state and
national parks found throughout the United States. Each photo feature is coupled with a brief explanation.
For further detailed information, links to other related sites are provided.
Arlington Resort Hotel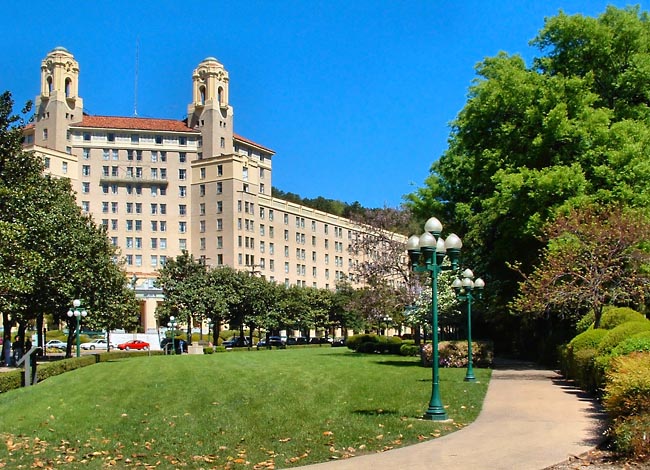 The town of Hot Springs has been attracting visitors to its thermal springs for well over 200 years. This unique site, consisting of an array of 47 thermal springs, lies in the Arkansas Ouachita Mountain Valley. The most prominent building in historic Hot Springs is caught in this city scene, the Arlington Resort Hotel. The Arlington has been the center for grand balls, social events and relaxation since 1875 when the first three story, 120 room hotel was built. The hotel offered spacious rooms illuminated with gas lights. The hotel's two wings wrapped around a grand court and colonial porches extended the full length.
The original hotel soon gave in to progress in 1893. A 300 room Spanish Renaissance replacement lasted only 30 years, lost in a fire in 1923.
Today's Arlington Hotel and Spa was built in 1924, boasting 500 rooms. The Crystal Ballroom, Venetian Room and Magnolia Room are still in use. The hotel, not only offered an in-house hot springs bathhouse, but 50 rooms also piped in thermal spring waters. The grand hotel was air conditioned and heated by 1955 and saw updated elevators. On a nostalgic footnote, the hotel has retain its original attendant-operated bath house elevator. Lined in glass and accented with brass trim, the elevator is still closed by hand and guided up to the 11th floor.
Copyright ©2006-2009 Benjamin Prepelka
All Rights Reserved