Scenic USA - Arizona
Scenic USA offers a collection of select photographs from a wide variety of attractions, points of interest, historic sites, state parks and
national parks found throughout the United States. Each photo feature is coupled with a brief explanation.
For further detailed information, links to other related sites are provided.
Mogollon Rim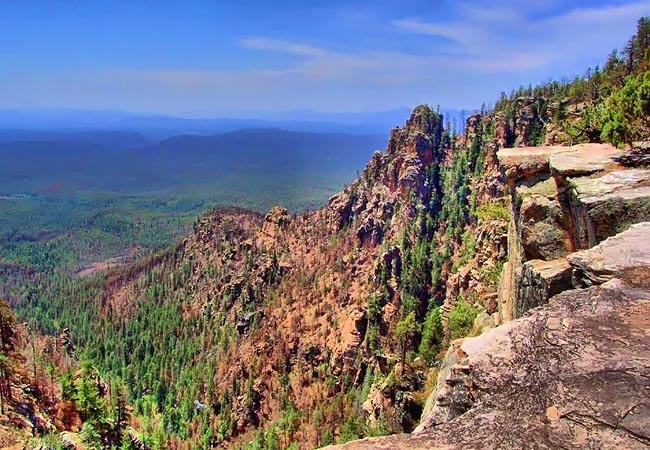 Arizona's Mogollon Rim, a fine example of an extreme section of topography called an escarpment, stretches across the state for over 200 miles. Its dramatic cliffs, some rising 2000 feet, mark the southwestern edge of the Colorado Plateau. The Rim also draws a distinct border between the largest pine forest in the United States and a desert (one that may unjustly define Arizona).
The Rim country is managed by four national forest service units, including Kaibab, Coconino, Sitegreaves and Apache. Prized for its huge ponderosa pine forest, new ideas about fire suppression may have saved some half million acres consumed by fire. It's now recognized that natural fires burn off accumulated undergrowth and debris without harming larger trees. Allowing years of decaying plant material to build creates conditions for much larger and hotter fires as witnessed in the Dude fire in 1990, and the Rodeo-Chediski fire in 2002.
Here along the Rim Road (FR 300), experience Zane Grey's signature cowboy country. Spectacular rock outcroppings of sedimentary limestone and sandstone poke out from the thick pine forests. Mogollon's (MUGGY-own) plunging side canyons, magnificent forests and small towns dot The Rim, making an obvious sightseer's paradise. A cool respite from the desert heat, The Rim also offers a historic hiking system, horseback trails, picturesque lakes and plenty of outdoor elbow room.
Copyright ©2010 Benjamin Prepelka
All Rights Reserved