Scenic USA - Washington
Scenic USA offers a collection of select photographs from a wide variety of attractions, points of interest, historic sites, state and
national parks found throughout the United States. Each photo feature is coupled with a brief explanation.
For further detailed information, links to other related sites are provided.
Palouse Country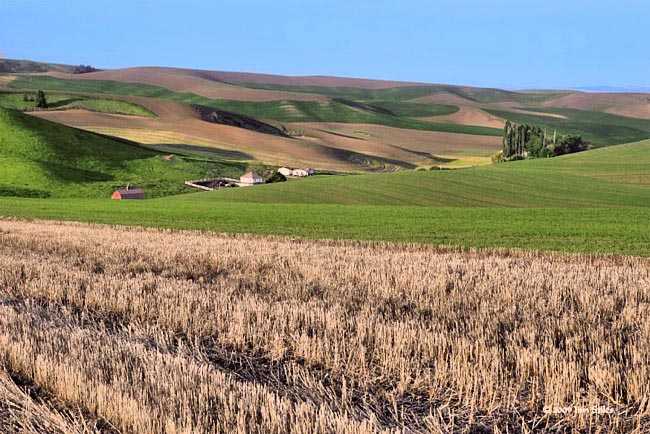 This captivating view of the Palouse is quite a different scene from Washington State's main stream tourist circuit of mountains and signature coastline. Creating a splendid contrast to the west, the Palouse Region not only covers eastern Washington, but also a large portion of northwestern Idaho. Found south of Spokane, this farmland takes over 3,000 square miles around the Palouse River. The odd name is thought to have evolved from French trappers and their word meaning land with thick, short grass. Little more than a hundred years ago this prairie land, found mostly treeless, was covered in a mix of perennial grasses. Along with the arrival of the Great Northern Railroad, thousands of farmers fanned out across these fertile lands. By 1890, sodbusters quickly turned the grassland into farmland, planting nearly every acre with wheat. Early farms were extremely labor intensive, with each plot employing hundreds of men and horses during spring planting and fall harvest. These broad rolling hills and steep slopes delayed mechanization, lagging as much as 20 years behind mainstream America. Today, more than 95 percent of the area supports agriculture with major crops of winter wheat, lentils and rapeseed.
From on top of these picturesque hills, one finds a deep appreciation of the land's immensity. Here the land is cultivated in contoured stripes and striking patterns that seem to spread out forever. Sightseers may find these dramatic views over Washington's Palouse Scenic Byway, one of the state's many scenic routes.
Copyright ©2006-2009 Benjamin Prepelka
All Rights Reserved