Scenic USA - Michigan
Scenic USA offers a collection of select photographs from a wide variety of attractions, points of interest, historic sites, state and
national parks found throughout the United States. Each photo feature is coupled with a brief explanation.
For further detailed information, links to other related sites are provided.
Tawas Point Lighthouse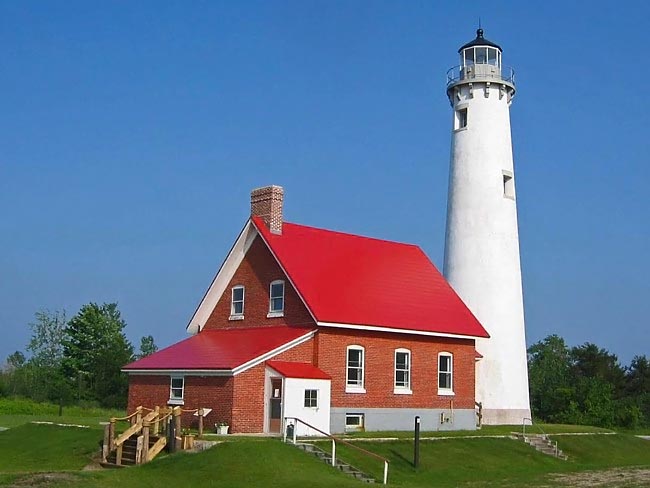 The Tawas Point Lighthouse has been watching over a long sandy arm that juts into Lake Huron for over 130 years. Here on the sunrise side of Michigan, Saginaw Bay joins the great lake, once called La Mer Dooce (the Sweet Sea) by early French trappers. Today's photogenic light-station, with its bright white tower and contrasting rich red roof, paints a vivid coastal scene. Turned over to Michigan's Department of Natural Resources in 2002, the state has followed through on a costly restoration project.
Unlike most lighthouses surrounded by eroding water currents, the peninsula at Tawas Point has accumulated sand over the years and grown over a mile since the first lighthouse was built in the mid 1800s. With advances in ship's navigational gear and the growing need of a lighthouse relocation, the U.S. Coast Guard closed the station in 1953. Facing the chopping block in 1996, lighthouse ownership was transferred to the Michigan DNR.
Now part of the Tawas Point State Park, the crisp-looking light creates a terrific focal point in the park. Here on Tawas Point the beacon marks the northern entrance to Saginaw Bay. This well protected body of water has turned the park into a popular starting point for sailing. A limestone reef, constructed along the peninsula, has created a new habitat for young fish. Attracting hungry grown-ups, the fishing here has ordained plenty of local anglers, complete with fresh bragging rights.
Copyright ©2009 Benjamin Prepelka
All Rights Reserved