Scenic USA - Washington
Scenic USA offers a collection of select photographs from a wide variety of attractions, points of interest, historic sites, state parks and
national parks found throughout the United States. Each photo feature is coupled with a brief explanation.
For further detailed information, links to other related sites are provided.
Cape Alava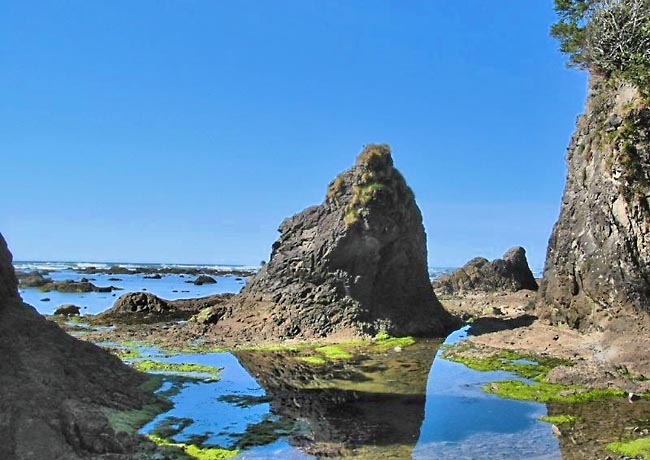 The Olympic Coastal Strip, made up of national parkland and Indian reservations, covers over 75 miles of Washington's shoreline. One of the most popular back-country hikes leads out to the coast at Cape Alava and Sand Point. Broken into a trio of three mile sections, the Cape Alava – Sand Point trail loop leads its hikers over a mix of boardwalks and gravel pathways to a treasure trove of forest beauty and rugged coastline.
From Sekiu and the Strait of Juan de Fuca, the Hoko-Ozette Road leads southwest to the Ozette Ranger Station and the trailhead. The trail presents its first challenge right away, choosing a tougher route first to Cape Alava, or the easier path to Sand Point. Either trail acquaints its visitors to a red cedar, Sitka spruce rainforest, lined with mosses and ferns, plus small meadows and marshes. Overhead, hawks, eagles, and ravens keep a keen eye on each new contingent of forest invaders.
Reaching the shoreline means a fresh landscape, dressed with sea stacks, intimate coves, shorebirds, and the area's namesake, Ozette Island. At Sandy Point, a smooth sandy crescent is covered in a disorderly collection of giant driftwood logs. Park rangers placed a strong emphasis on knowing tide times and heights, as high tide severely complicates beach hiking.
Copyright ©2010 Benjamin Prepelka
All Rights Reserved