Scenic USA - Vermont

Green Mountain Byway
---
---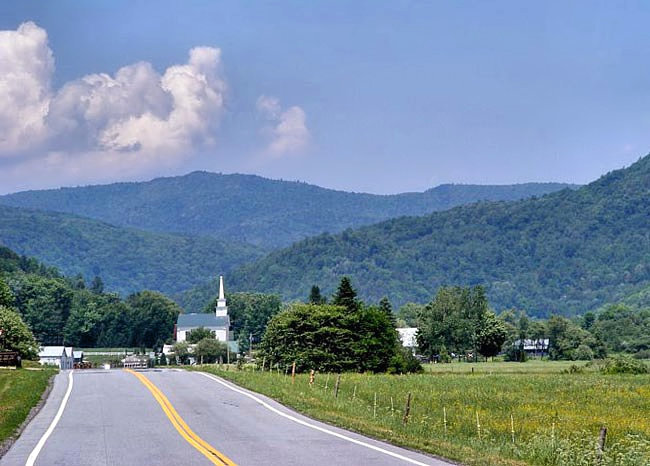 Seeming to bisect the state from top to bottom,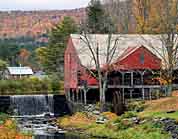 Vermont's Route 100 covers nearly 200 miles as it follows scenic river valleys, passed the peaks of the Green Mountains, through dozens of charming towns, and one picturesque sight after another. Beginning at the southern border near one of Vermont's oldest cities, Wilmington (chartered in 1750), the byway ends at Troy near the Canadian border. Heading northward from Wilmington, the highway passes two state parks, namely Townshend and Jamaica. The West River at Jamaica calls on all whitewater enthusiasts to tackle the river's Class II and Class IV rapids. Hamilton Falls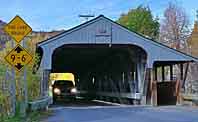 is another scenic wonder here as Cobb Creek drops over 125 feet over imposing granite ledges. Next up is the picturesque town of Weston where historic buildings recall a bygone era before electric power. Just north of Gifford Woods State Park and Stockbridge, the two lane highway follows along the White River.
   Granville marks the midpoint on this scenic route. This view looks northward toward town as the snow-white steeple of Granville Methodist Church reaches to the sky. The white clapboard church dates back to 1838 and marks the center of town.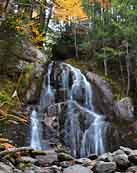 Texas Falls and Moss Glen Falls, two roadside attractions, are also found near Granville. Continuing northward, the byway climbs to the route's highpoint at Lincoln Gap. Warren and Waitsfield are up next as Route 100 smoothes out in the Mad River Valley. After crossing Interstate 89, travelers will find Stowe, one of Vermont's most famous villages. Here, the Von Trapp family attracted worldwide attention more than 50 years ago. With the catchy name of Smugglers Notch, this ski resort shares the limelight with Stowe. The Green Mountain Byway ends near the northern border at Westfield and Troy, flanked by the Lowell Mountains. Here the scenic route follows the East Branch of the Missisquoi River and leads to Elmore State Park. Although the drive time is just over four hours, this scenic drive has many attractions to keep byway travelers busy for days.

    Area Map
---
| | |
| --- | --- |
| Byway Highlights - North to South | |
---
Copyright © 2009-16 Benjamin Prepelka
All Rights Reserved