Scenic USA - Ohio
Scenic USA offers a collection of select photographs from a wide variety of attractions, points of interest, historic sites, state and
national parks found throughout the United States. Each photo feature is coupled with a brief explanation.
For further detailed information, links to other related sites are provided.
Marblehead Lighthouse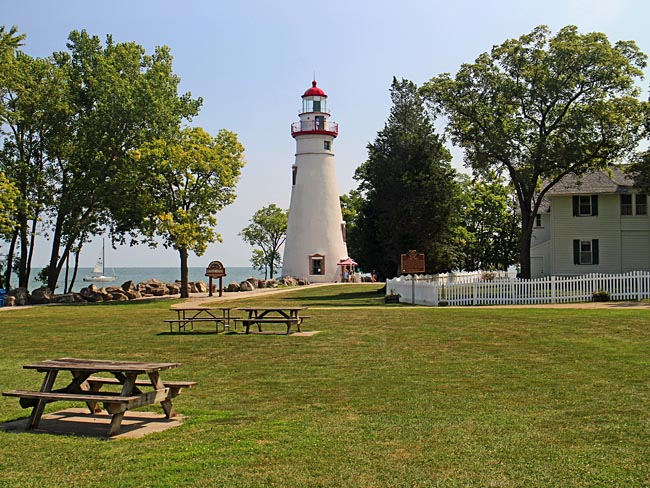 Ohio, bordering on the edge of America's Midwest, is considered a Great Lakes State. It shares its northern border with Lake Erie, taking in more than 150 miles of a picturesque shoreline. One of the scenic lakeside landmarks is found at the 100 acre Marblehead Lighthouse State Park. The park is located nearby the city of Port Clinton and adopts its name from the Marblehead Peninsula that juts out into the lake for nearly 15 miles. A lighthouse has marked this rocky shore since 1822, guiding lake traffic toward Sandusky Bay. The photogenic Marblehead Light stands 65 feet above Lake Erie and remains one of the oldest active navigation aids in the Great Lakes area.
The lighthouse and park, a popular site, has fallen under control of the Department of Natural Resources, given up by the Coast Guard in 1996. Modern watercraft with a GPS navigation aid no longer require lighthouse aid, but the stalwart beacon will continue to shine offering a sense of permanence along the Erie coast.

    Area Map
Copyright ©2007 Benjamin Prepelka
All Rights Reserved