Scenic USA - Nevada
Scenic USA offers a collection of select photographs from a wide variety of attractions, points of interest, historic sites, state and
national parks found throughout the United States. Each photo feature is coupled with a brief explanation.
For further detailed information, links to other related sites are provided.
Arc Dome Peak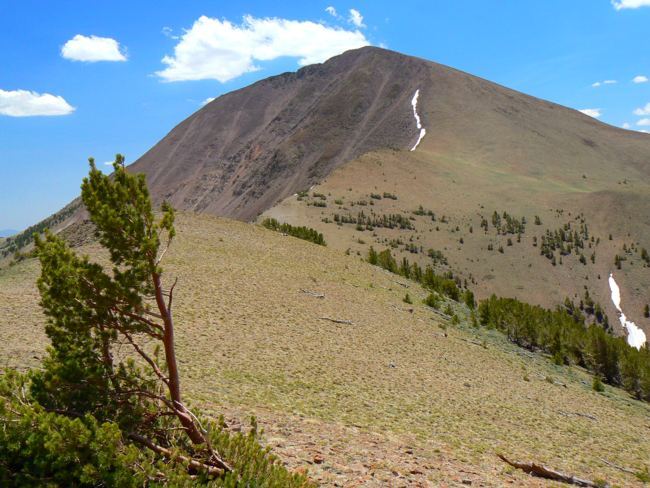 One of Nevada's highest mountains lends its name to 115,000 acres of wilderness land. The Arc Dome Wilderness, located in the Toiyabe Range, can be accessed from all four points of the compass. The 72 mile long Toiyabe Crest Trail, at Ophir Summit, is found to the north of Arc Dome. Although the land prohibits motorized vehicles, the area is widely used. Pastimes of fishing, hunting, horseback riding, backpacking and hiking are popular in the western Nevada preserve. All of the wilderness users are asked to use proper etiquette by packing out all trash and leaving no trace.
Mining activities were part of Arc Dome's past and
traces of equipment are scattered along the North Twin Trail. Examination of the rugged territory today gives a hint of the struggles that early miners faced. An interesting story describes the tenacity and ingenuity of the local prospectors, as they disassembled a truck, packed in the pieces by mule and then completed reassembly.
Pictured here is the challenging Arc Dome Peak (11,773 feet), the hiker's goal is in sight. To the top, it's more than 13 miles from the trailhead. The lower elevations are covered in mountain mahogany, sage, some aspen and water birch. At this height, the trees have begun to disappear above the tundra line and the grand view from the top lies just ahead.
Copyright ©2007 Benjamin Prepelka
All Rights Reserved