Scenic USA - Wyoming

Big Horn Hot Spring
---
---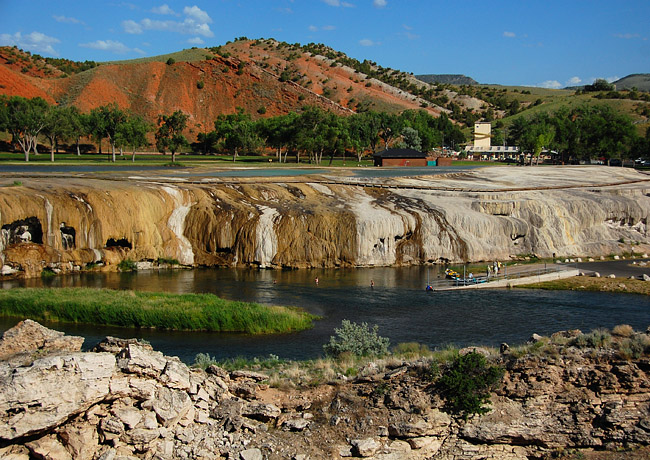 Thermopolis, a Greek word for Hot City, gives a slight inkling of what this central Wyoming town is all about.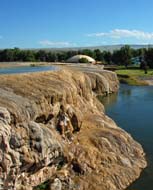 Promoted as the city with the World's Largest Hot spring, mineral laden waters well-up from Big Horn Hot Spring at a scalding 127 degrees. This huge pool, spewing out 3.6 million gallons of hot water every day, makes up the main feature of Hot Springs State Park.
   This view from a roadside pullout looks down on the Bighorn River and a line of travertine cliffs created by Big Spring's overflowing pool above. These healing waters, located on the north end of town, seemingly provide a never-ending supply of hot water. Here at Big Horn Hot Spring, Native Americans have been enjoying the hot waters for over 2000 years. A treaty was signed with Native Shoshone and Arapaho tribes in 1896, allowing area settlers to move into the area and frequent the springs as well. Today in Thermopolis, park visitors continue to swim, slide and relax in this mammoth hot tub.
   The thermal features of Big Horn Hot Spring are different than those of a distant neighbor, Yellowstone Park. Rather than being heated by magma near the earth's surface, the hot spring waters originate in the Owl Creek Mountains to the south, where seeps flow deep underground and are heated by a geothermic gradient, a natural increase in temperature with increased depth.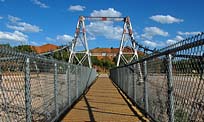 The hot water is then forced upward toward the surface at Big Spring by the Thermopolis Anticline.
   Here in the park visitors may also test their trust in the Bighorn River Swinging Bridge. Built in 1916, the original bridge connected Big Spring with Fremont Spring and the Pleasant View Hotel and Sanitarium. The bridge was restored in 1992 by the North Dakota National Guard. A major project, the bridge restoration received a large contingent of supporters and stands as a tribute to the Curtis and Hamilton pioneer families.

     Area Map
---
| | |
| --- | --- |
| Additional Points of Interest | |
---
Copyright © 2013-16 Benjamin Prepelka
All Rights Reserved