Scenic USA - North Carolina
Scenic USA offers a collection of select photographs from a wide variety of attractions, points of interest, historic sites, state parks and
national parks found throughout the United States. Each photo feature is coupled with a brief explanation.
For further detailed information, links to other related sites are provided.
Whalehead Club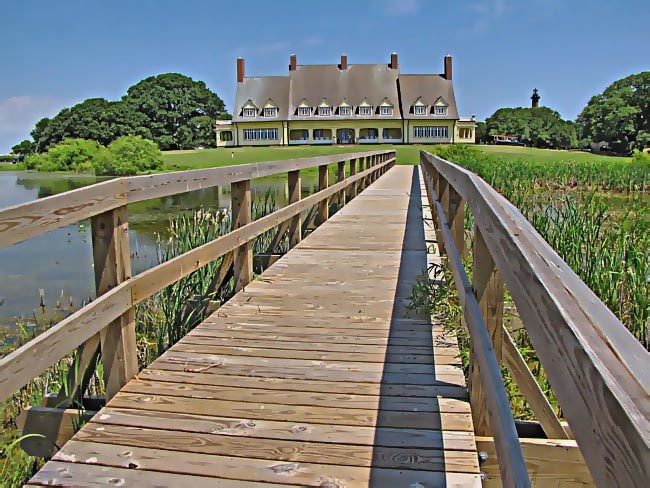 A member of the executive board with the Pennsylvania Railroad and the American Sugar Refinery, Edward Collins Knight, Jr. could well afford a private hunt club and vacation home for his wife Marie Louise. At the time, most hunt clubs were off limits to women members, so Knight built this Art Nouveau style structure on Corolla Island during the mid 1920s. Located on North Carolina's Outer Banks, Marie Knight was free to enjoy hunting and horseback riding in this remote setting.
Today, Knight's vacation home, known as the Whalehead Club, has undergone a complete renovation, including the mansion, boathouse and access bridge. The Whalehead Club Mansion followed the Art Nouveau, and Arts and Crafts style lines, dressed in corduroy walls, cork flooring, and tiffany lighting fixtures. The Nouveau style, a celebration of nature, suggested a water lily design for the wainscoting, door handles, tables and chairs.
The Whalehead Club is now property of Currituck County, adding acreage and the grand mansion to the Currituck Wildlife Museum. The hunt club mansion, boathouse and footbridge, placed on the National Register of Historic Places, provides a wondrous, yet ironic facility for visitors to learn about wildlife and natural history. Corolla Village guests are also treated to the Currituck Beach Light Station, also receiving a meticulous restoration. The lighthouse is open for tours, except for winter months.
Copyright ©2010 Benjamin Prepelka
All Rights Reserved