Scenic USA - Colorado
Scenic USA offers a collection of select photographs from a wide variety of attractions, points of interest, historic sites, state and
national parks found throughout the United States. Each photo feature is coupled with a brief explanation.
For further detailed information, links to other related sites are provided.
Colorado Piedmont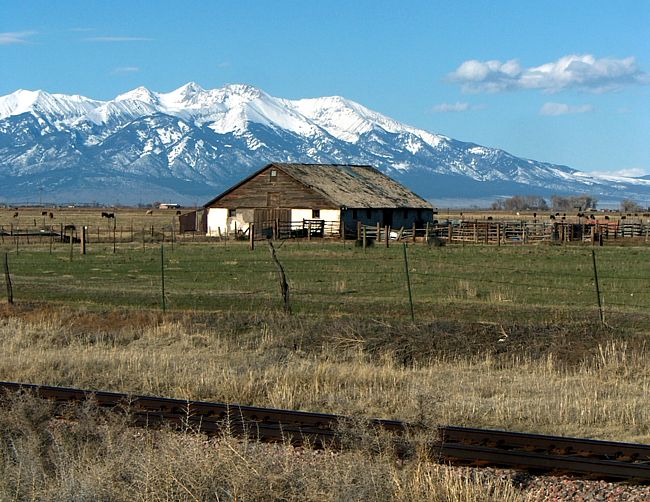 Colorado's Front Range divides the state in two distinct sections. The eastern plains continue westward from the Kansas border and gradually rise about 2,500 feet in elevation nearing the Rocky Mountain piedmont. The mountain barrier, running north and south is the western boundary from the majority of Colorado's population. Four major cities, Denver, Pueblo, Fort Collins and Colorado Springs, lie in the Front Range area and nearby Interstate 25.
In this view, a picturesque ranchland lies in the foothills and at the base of the ever present, cool-blue Rocky Mountains. The climate for this farmland is marked with low humidity, a wide range of temperatures (averaging from 115 degrees F. to minus 15 degrees), strong dust storms, and summertime's severe thunderstorms. Heavy Rocky Mountain snowfall, sometimes accumulating over 20 feet, provides plenty of water for irrigation from the east-flowing South Platte and Arkansas Rivers. Growing season averages five months and is suitable for crops of wheat, corn, orchard fruit, potatoes, and alfalfa. In the eastern half of the state, three stand-out scenic drives take sightseers through the high plains and rolling grasslands. Pawnee Grasslands in the north runs from Pierre to Sterling. The southern routes begin at Trinidad, with one byway following the Sante Fe Trail to La Junta and the other heading through the Comanche National Grassland, and the wide-open prairie.
Copyright ©2007 Benjamin Prepelka
All Rights Reserved