Scenic USA - Georgia
Scenic USA offers a collection of select photographs from a wide variety of attractions, points of interest, historic sites, state parks and
national parks found throughout the United States. Each photo feature is coupled with a brief explanation.
For further detailed information, links to other related sites are provided.
Fort Mountain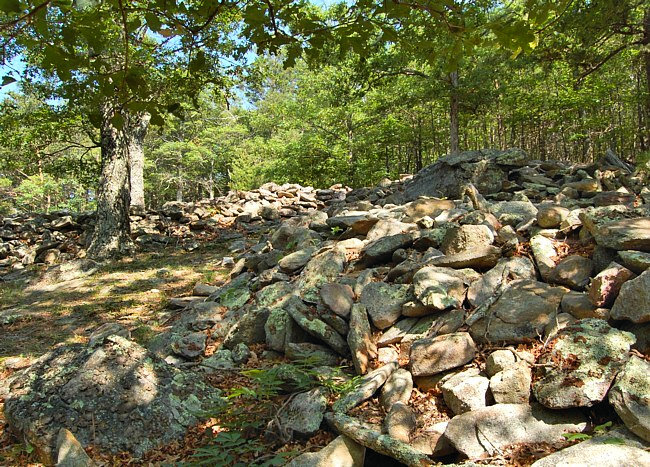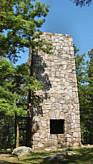 Just east of Dalton, Route 52 begins to take a serious climb toward Fort Mountain. Topping out at 2848 feet, this Georgia state park offers a variety of amenities including a 17 acre lake, cottages and campsites.
The name, Fort Mountain, originates from a mysterious wall, a jumble of non-native rocks that spread out in an 885 foot arc near the summit. This collection of boulders has baffled southeastern archaeologists for centuries, leading to various theories and speculation. One of the most intriguing ideas dates back to the early 1800s when the old Cherokee Chief Oconostota indicated the fortification was built hundreds of years ago by white people, called Welsh. According to legend, Madoc left his kingdom in Europe and sailed across the Atlantic, making landfall at Mobile Bay in the late 1100s. Modacís return trip to Europe gathered colonists for the New World, the last that was ever seen of this expedition. The legend was so prevalent in the 1800s that Lewis and Clark were ordered to look for Welsh Indians or any Welsh speaking peoples.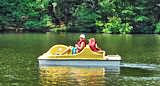 Current theories date the wall to 500 A.D., and suggest the wall was built for religious purposes. Angled to capture both morning and evening sun, the wallís position fits well with the Native Americanís practice to worship the sun.
A loop trail leads through the tree canopy, with both branches advancing toward the summit. The summit trail weaves around huge boulders and passes an overlook, a stone tower constructed by the CCC, and on to the Fort Mountain wall. Fort Mountain State Park offers a tempting variety of hiking trails, interesting Georgia history, family-oriented picnicking, swimming, miniature golf, and boat rentals.
Copyright ©2010 Benjamin Prepelka
All Rights Reserved