Scenic USA - Utah

The Three Gossips
---
---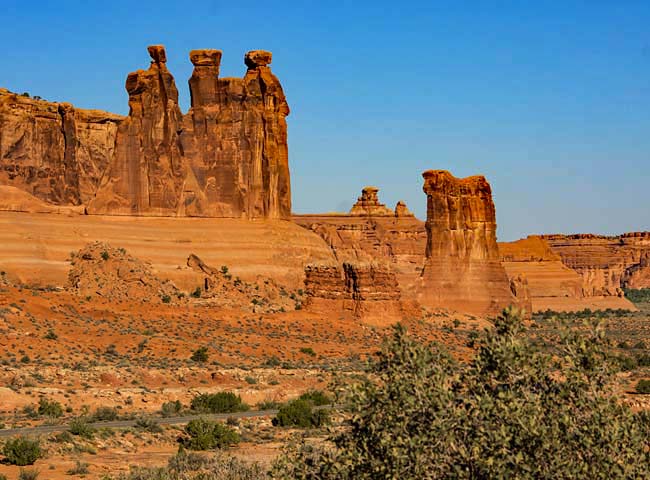 There's an old saying that prophetically states, Getting there is half the fun! And speaking of fun, the road trip into Arches National Park provides a heaping helping of thrills.
Just past the visitor center, the main park road climbs back and forth over a series of switchbacks up a steep cliff face to the top of a plateau, making quite the opening statement. But once on top, the park road levels a little more and starts a very scenic route to all the wonders of the park. Off to the southeast visitors are first treated to fantastic views of the La Sal Mountains. After the first pullout, the huge, colorful sandstone formations of Park Avenue, Courthouse Towers and the Three Gossips take the stage. With its peculiar name, the Gossips are one of the park landmarks that visitors will readily remember.
   Named for its 2000 natural rock arches, the park provides hundreds of arch sites to explore while visitors continue to marvel at the spectacular red rock scenery.
Two major side roads branch off to the east, and first up is famous Windows Section where arch hunters get their first look at a group of immense rock arches. The second side road leads to the most famous arch of all, Delicate Arch. The park road heads northward for an impressive ride to the end of the park where visitor may continue on foot to the Devils Garden were the longest rock arch in the world is found. Landscape Arch, with it fragile looking rock span, measures only 6 feet at its thinnest point. Stretching across the sky for 290 feet, Landscape Arch is the king of big arches ... for now.

    Area Map
    Park Map
---
| | |
| --- | --- |
| Additional Points of Interest | |
---
Copyright © 2006-15 Benjamin Prepelka
All Rights Reserved