Scenic USA - Rhode Island

Touro Synagogue
---
---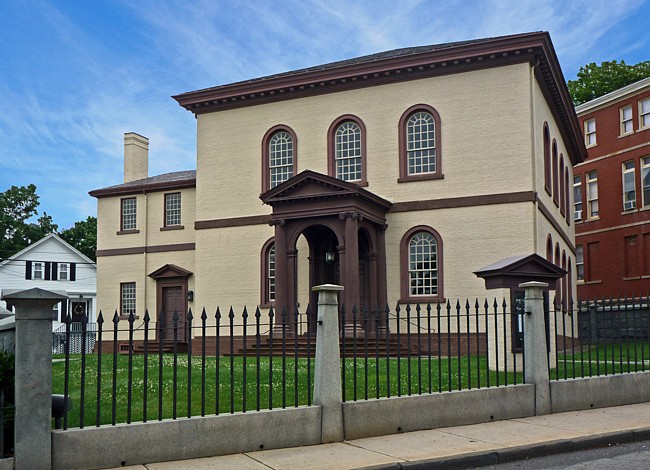 Arriving from Barbados in 1658, 15 Jewish families joined a small Rhode Island settlement in Newport. Upon their arrival in New England, these new families formed a congregation, calling themselves Yeshuat Israel. After a century of growth, the congregation wished for a permanent house of worship. British American merchant and sea captain Peter Harrison volunteer to design the new synagogue.
   Although Harrison lacked any formal training in architecture, he had just completed the Redwood Library in Newport and King's Chapel in Boston. With two other projects in work, Harrison took on the design for a new house of prayer. Itís still unknown how Harrison could have developed this eloquent design and understood the requirements of a Jewish house of worship without any examples to follow. But, Harrison's credited for introducing the Palladian style of architecture to New England. Completed in 1763, the building was dedicated during the Chanukah Festival on December 2nd.
   During the American Revolution, British forces occupied Newport and many residents fled from the city.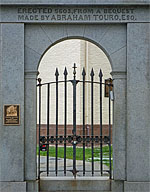 Isaac Touro remained to look after the synagogue as it was used for a hospital by the British. Following the War of 1812, more Jewish families left the area and with little use the synagogue was closed. Prominent Jewish businessmen never gave up their financial responsible for the congregation's properties. When the state accepted Abraham Touro's generous gift for the upkeep of the Newport synagogue, state legislators named the street after Touro. Over time the building took on the name Touro Synagogue.
   With a large influx of Eastern European Jewish immigrants in the late 19th century, the Newport synagogue was reopened. Still an active house of prayer, the Touro Synagogue receives thousands of tour visitors every year. Designated a National Historic Site in 1946, the Touro Synagogue is the oldest synagogue building in America and now readies for its 250 year anniversary.

    Directions
    Area Map
---
| | |
| --- | --- |
| Additional Area Attractions | |
---
Copyright © 2012-16 Benjamin Prepelka
All Rights Reserved