Scenic USA - Alaska
Scenic USA offers a collection of select photographs from a wide variety of attractions, points of interest, historic sites, state and
national parks found throughout the United States. Each photo feature is coupled with a brief explanation.
For further detailed information, links to other related sites are provided.
Last Wilderness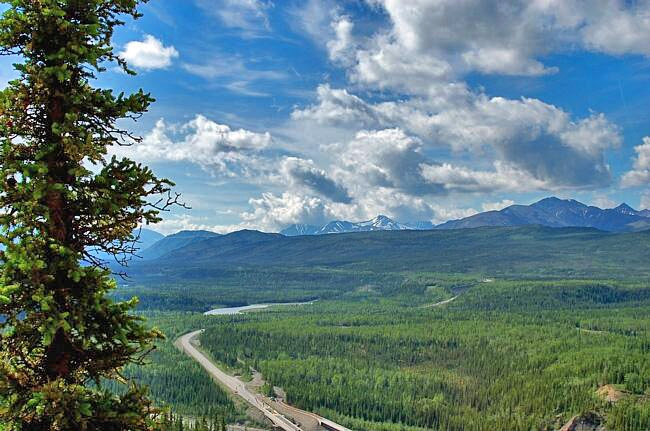 Alaska is nicknamed, with good reason, the Last Wilderness. Alaska's size is unfathomable, its territory contains more land than the next three largest states combined. It boasts North America's highest mountain (Mount McKinley), the largest, most intact temperate rainforest in the world and the largest island (Kodiak) in North America. This great land mass, covered in mountains and wilderness land, is lacking in one respect; highways. The

Alaskan people travel by various other means, including river boats, dog sleds, railways, jet skis, snowmobiles and float planes. The area is sliced up by four major river systems, Susitna, Kuskokwim, Yukon and Copper River Basins, creating more challenges for travelers and design engineers.
Aircraft has changed Alaska more than any other technology. Today, Alaskans fly more often and own more aircraft than any other people in the world, with eight times as many pilots and 16 times as many planes per capita as any other state.
Pictured here is a view out toward the majestic Alaskan Mountain Range from the town of Denali. The southern vista takes in one of the very few Alaskan roadways, Route 3, the George Parks Highway.
Copyright ©2007 Benjamin Prepelka
All Rights Reserved