Scenic USA - Idaho

Sacred Heart Mission
---
---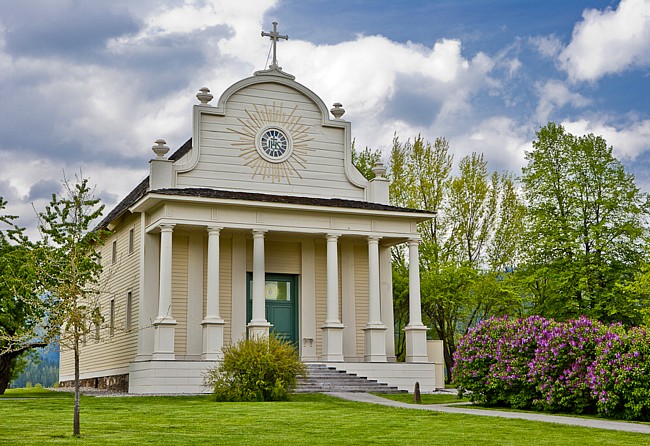 Built by members of the Coeur d'Alene Indian Tribe and Jesuit Missionaries, the Sacred Heart Mission is now the oldest building in Idaho. Led by Father Anthony Ravalli, this Jesuit mission was first established in 1842 along the Saint Joe River about 35 miles south of the present day mission in Cataldo.
Tales of powerful medicine men, known as Black Robes, piqued the Coeur d'Alene Indians' interest, stirring them to meet with Father Pierre-Jean De Smet. Answering the tribe's request, De Smet traveled to the Idaho panhandle to set up the area's first mission. Seasonal flooding forced a relocation of the Saint Joe River mission, moving it to higher ground overlooking the Coeur d'Alene River near present day Cataldo.
The Sacred Heart Mission church was built with a unique blend of natural building material and old world architecture.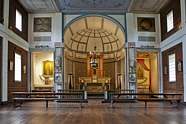 Constructed of hand-hewn logs and plastered in a method called wattle and daub, the mission's 24 inch thick walls were eventually covered with wood siding and interior paneling. Making do with little money and plenty of ingenuity, huckleberries were used as stain, and wooden alters and crosses were painted to resemble gilding and marble. European style chandeliers were constructed using discarded tin-cans, and many of the interior walls were decorated with painted newspaper and cloth purchased in Walla Walla.
Placed on the National Register of Historic Places, the Mission of the Sacred Heart is now the centerpiece of the Old Mission State Park. The rebuilt parish house (1887), two cemeteries, a visitor center and nature trail make up the park's main attractions.

Area Map
---
| | |
| --- | --- |
| Additional Points of Interest | |
---
Copyright © 2011-15 Benjamin Prepelka
All Rights Reserved