Scenic USA - Ohio
Scenic USA offers a collection of select photographs from a wide variety of attractions, points of interest, historic sites, state and
national parks found throughout the United States. Each photo feature is coupled with a brief explanation.
For further detailed information, links to other related sites are provided.
Roosevelt Lake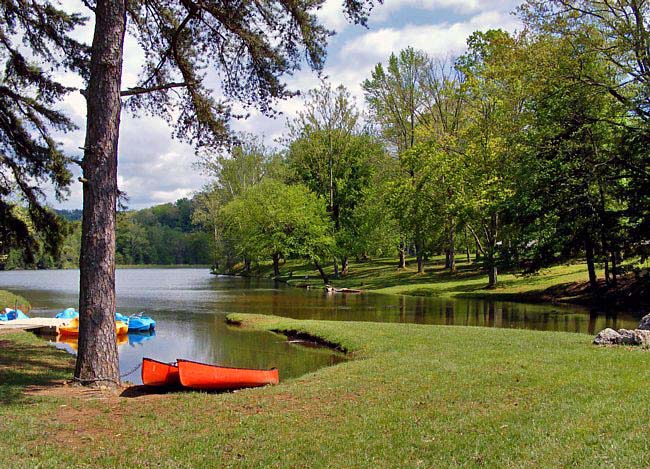 Ohio's Route 125 cuts through the center of a 63,000 acre Shawnee State Forest. Found just west of Portsmouth, this large area of dense forest spreads northward from the Ohio River Valley, along the state's southern border. The forestland dates back to 1922 when it began as the Theodore Roosevelt Sate Game Preserve. The Roosevelt name suggests the preserve was established along with America's initial steps of conservation, influenced by the Roosevelt era. Although these hills are part of the Appalachian Plateau, there are no mountains in this section of southern Ohio. That fact hasn't deterred those that refer to the area as Ohio's Little Smokies. The smoke, or blue haze, is said to rise up and hang above the dense forest.
The Shawnee State Park appears almost centered in the state forest, and is set up to take full advantage of these scenic hills. The lodge, cabins, and ample campground hook-ups provide overnight accommodations for varied tastes. This Picture of the Day looks toward Roosevelt Lake, where boating and fishing are just a sample of all the outdoor activities available. Facilities include areas for golf, tennis, basketball, archery, picnicking and a park marina on the Ohio River.
Copyright ©2008 Benjamin Prepelka
All Rights Reserved