Scenic USA - Pennsylvania
Scenic USA offers a collection of select photographs from a wide variety of attractions, points of interest, historic sites, state parks and
national parks found throughout the United States. Each photo feature is coupled with a brief explanation.
For further detailed information, links to other related sites are provided.
Slippery Rock Creek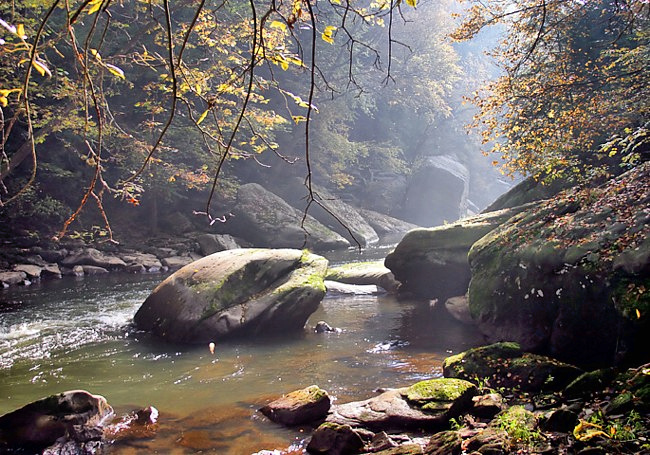 Along with its natural beauty, Slippery Rock Creek is one of Pennsylvania's livelier whitewater streams. A paddler's favorite destination, the stream offers kayakers and canoeists a variable mix of flat-water and Class II and III rapids. As the creek runs through McConnell's Mill State Park and the Slippery Rock Gorge, whitewater enthusiasts are forbidden to run the dam. Here in the steepest part of the gorge, the creek gave the mill all the power it needed to grind grain.
South of the dam, another three miles of swift currents, deep pools and rapids continue the excitement all the way to the Harris Bridge.
Pictured here in this glowing morning scene is a section of the creek nearby Frew Mill. Smallmouth bass, walleye and trout entice the experienced angler as well as the beginner. A boulder strewn streambed, slippery rocks and ever present swift currents present even more challenges as anglers wade the stream. Although moss covered rocks defy any real foothold, the Slippery Rock name is thought to stem from a natural oil seep in the river, creating an extra slippery surface.
Copyright ©2010 Benjamin Prepelka
All Rights Reserved