Scenic USA - North Carolina
Scenic USA offers a collection of select photographs from a wide variety of attractions, points of interest, historic sites, state and
national parks found throughout the United States. Each photo feature is coupled with a brief explanation.
For further detailed information, links to other related sites are provided.
Old Baldy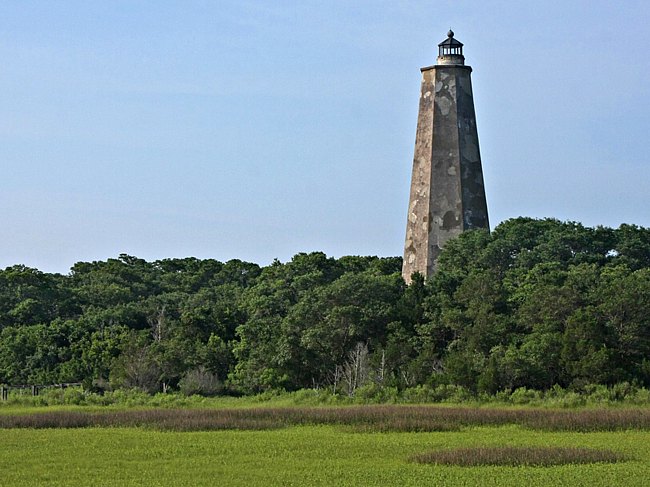 To the south of North Carolina's town of Wilmington, and just off the coast from Southport, lies a cluster of islands carved up by inlets and creeks. Smith Island and Bald Head Island are the largest of the group and add to this southern coastal prominent that separates Onslow and Long bays. Shifting sands, lying just below the Atlantic's surface, extend 28 miles from Bald Head Island and the entrance to the Cape Fear River. This navigational nightmare, called Frying Pan Shoals, gives away the reason for the name Cape Fear.
Speaking of navigation, the first site selected for a lighthouse on Bald Head Island proved to be too close to the shoreline. Beach erosion threatened the first tower built in 1795. In just 18 years, the structure was razed, giving up its building materials and lantern room for the new lighthouse. A new site was selected further inland and the replacement lighthouse was completed in 1817. The beacon was first illuminated with 15 lamps burning whale oil.
Today, the old lighthouse, dubbed Old Baldy, is reached by passenger ferry. Bald Head Island, named for its rounded and bare dunes, is off limits to cars. Leaving your vehicle behind on the mainland is not a big problem as the Smith Island Museum and the mottled Old Baldy Lighthouse is nearby the ferry landing. The 109 foot brick tower was relit in 1985 as an unofficial navigational aid. The lighthouse is open for tours and the Smith Island Museum, a replica of an 1850s light-keepers cottage, houses 400 years of maritime history.
Copyright ©2006-2009 Benjamin Prepelka
All Rights Reserved