Scenic USA - Vermont
Scenic USA offers a collection of select photographs from a wide variety of attractions, points of interest, historic sites, state and
national parks found throughout the United States. Each photo feature is coupled with a brief explanation.
For further detailed information, links to other related sites are provided.
Taftsville Covered Bridge
Taftsville, found along Vermont's U.S. Route 4 in Windsor County, is truly small town America,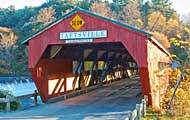 with a population hovering around 100. The Taftsville Country Store remains the town's center, where locals pick up their mail and newspaper, just as they always had for the last 160 years. The country store, built in 1840 by Daniel Taft and his sons, has made it onto the list of National Historic Places. Just as old, the Taftsville bridge dates back to 1836. The 189 foot double span bridges the Ottauquechee (AWT-ah-KWEE-chee) River, with a duo of kingpost trusses. In this framed view through the covered bridge's picture window, the misty Ottauquechee River valley shows off the hint of fall and its colored leaves. The old timbers, stiff with age, still manage to support local traffic as well as eastern Vermont's many visitors.
Copyright ©2007 Benjamin Prepelka
All Rights Reserved