Scenic USA - Vermont
Scenic USA offers a collection of select photographs from a wide variety of attractions, points of interest, historic sites, state and
national parks found throughout the United States. Each photo feature is coupled with a brief explanation.
For further detailed information, links to other related sites are provided.
Colchester Reef Lighthouse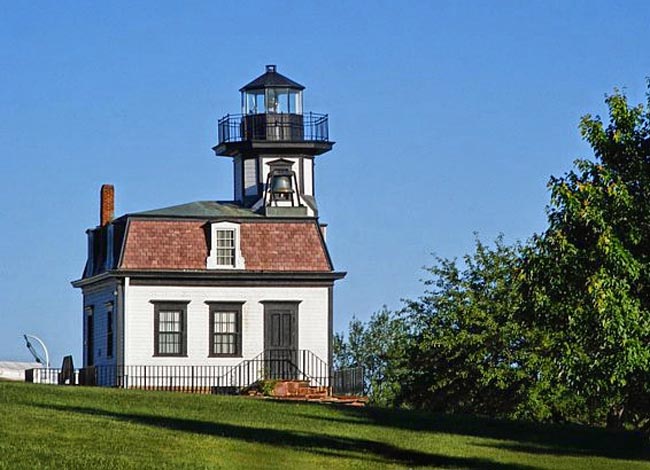 Shelburne Museum is viewed as one of America's most unconventional museums. Its collections are housed in a remarkable setting with 39 exhibition buildings, including 20 that were relocated to the property. Some of the structures brought in include a jail, one-room school house, general store, a covered bridge and lighthouse.
Pictured here is Colchester Reef Lighthouse that once stood guard on nearby Lake Champlain, warning mariners of the Colchester Reef. The structure, built to withstand gale force winds, features a post and beam frame. The frame, tower and roof are pegged or bolted, with some areas secured with iron rods. The solid Vermont lightstation was built in 1871, and moved in 1952. Today it stands in the midst of the garden-like Shelburne Museum grounds, adjacent to the 220 foot steamboat, the Ticonderoga.
Electra Havemeyer Webb founded the museum in 1947. Her ideas of an educational experience are carried on today in this village style setting with educational programs, workshops and special exhibitions. Each year, the museum outdoes itself with top rated artistic exhibits, including paintings, folk art, and a wide assortment of 17th through 20th century artifacts.
Copyright ©2008 Benjamin Prepelka
All Rights Reserved