Scenic USA - Virginia
Scenic USA offers a collection of select photographs from a wide variety of attractions, points of interest, historic sites, state parks and
national parks found throughout the United States. Each photo feature is coupled with a brief explanation.
For further detailed information, links to other related sites are provided.
Great Falls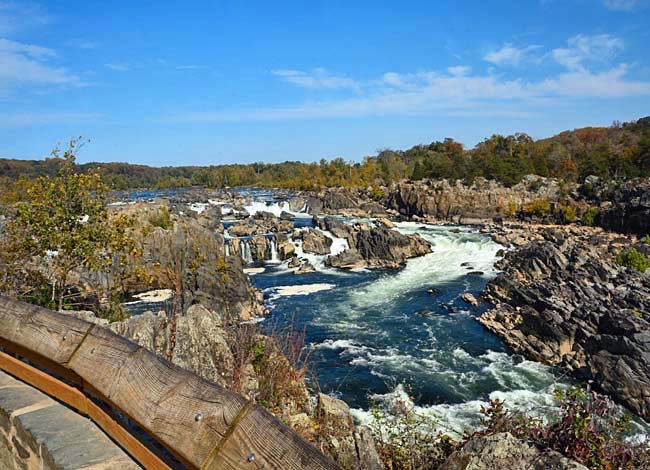 Just west of Washington D.C., the Potomac River is funneled through a rather narrow Mather Gorge. This wild looking cascade drops in a series of falls totaling 76 feet. Once part of the Northern Virginia Parks System, Great Falls National Park joined the national park ranks in 1966.
The 800 acre park not only surrounds the falls, but displays the remnants of the Patowmack Canal. One of the country's first canals to use a locks system, the Patowmack Canal began operations in 1783. Discovered during a restoration project, the canal's lock gates were uncovered in the 1980s. Funded in part by America's first president, the locks proved unprofitable and were abandoned in 1830. Park grounds also protect Native American petroglyphs, discovered on the cliffs overlooking Difficult Run.
A scenic trail, part of a 15 mile trail system, follows the Potomac upstream from the Difficult Run tributary. Several viewpoints overlook the falls, rated as an extreme 5-6 whitewater run. Beyond the falls, the Potomac continues to entertain kayakers with milder class 2-3 ripples.
Copyright ©2010 Benjamin Prepelka
All Rights Reserved