Scenic USA - Pennsylvania

Steamtown NHS
---
---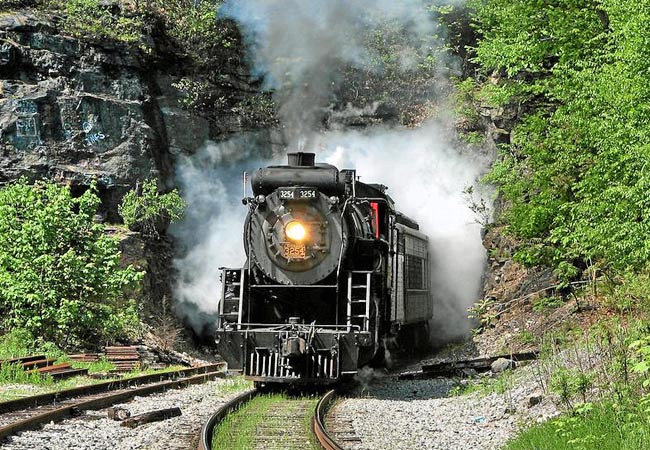 The Steamtown National Historic Site,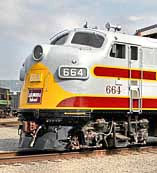 located in Scranton, Pennsylvania, was built around the former railroad yards and roundhouse of the Delaware, Lackawanna & Western Railroad. Many of the Steamtown's locomotives and railcars were gathered together by F. Nelson Blount. His dream to offer the public a railroad museum and working excursion train became a reality at Steamtown.
This historic site was created in 1986 and has since added a visitor center, theater and history museum. The film, Steel and Steam, relates the railroad's incredible growth and changes during the early 1900s. Short train rides and seasonal excursions roll through Pennsylvania's scenic countryside, thrilling passengers on vintage diesel and steam-powered trains.
The 1.2 million pound Big Boy (inset) is one of the most impressive historic locomotive engines at Steamtown.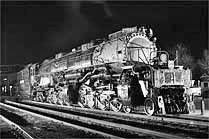 Union Pacific's answer for moving long lines of freight over steep mountain passes was a group of the largest successful steam engines ever designed. The Big Boy, built in Schenectady, New York, provided the power of three engines. Producing 6200 horsepower, the Big Boy was designed to reach speeds of 80 mph. The Big Boy used 16 massive drive wheels measuring over five and a half feet tall to move a 7917 ton (15.8 million lbs) train. Featured in a static display at Steamtown, the Union Pacific Big Boy #4012 was never matched when it came to power, speed and agility.

Area Map
---
| | |
| --- | --- |
| Nearby Points of Interest | |
---
Copyright © 2009-16 Benjamin Prepelka
All Rights Reserved