Scenic USA - Florida

Port St. Joe Bay Walk
---
---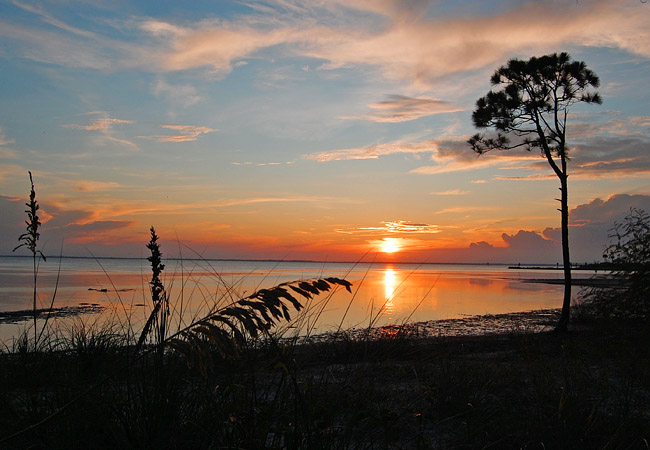 Historic St. Joseph, one of Florida's largest cities in 1840, seemingly disappeared without much of a trace.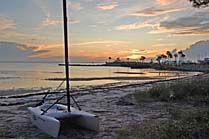 Although a few local legends describe its disappearance, in reality St. Joseph suffered from a flurry of punches, knocking out the town and its buildings.
   Formed around one of the finest harbors on the Gulf Coast, St. Joseph enjoyed its brief boom years beginning in 1835 when the city was founded. In 1841 a ship arrived, bringing with it a deadly yellow fever epidemic, wiping out a large segment of the population. Luckily most of its inhabitance had fled, fearing the disease, when an 1843 hurricane struck and its tidal surge destroyed the city's buildings. Neighboring Apalachicola, St. Joseph's bitter rival, survived the storm and lives on to this day.
   During the early 20th century, Port St. Joe was founded about two miles north of old St. Joseph.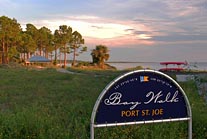 Here along Florida's Emerald Coast, Port St. Joe enjoys its place on the Gulf as a "small town with a big heart."
   During St. Joseph's boom years, Shipyard Cove was the site of a busy marine railway, where large boats were hauled out for repairs. Fred Maddox purchased this site in the early 1900s from the St. Joe Dock and Terminal Railway, making his home here on the bay for himself and Miss Zola. Florida Communities Trust purchased the property from the Maddox family in 1996, creating a city park for Port St. Joe. This three acre site, along the beautiful Port St. Joe Bay Walk, is best enjoyed as a leisurely walk. The setting sun invites many to stop at one of the Bay Walk benches and admire nature's incredible artwork.

     Area Map
---
| | |
| --- | --- |
| Additional Points of Interest | |
---
Copyright © 2013-15 Benjamin Prepelka
All Rights Reserved