Scenic USA - West Virginia
Scenic USA offers a collection of select photographs from a wide variety of attractions, points of interest, historic sites, state and
national parks found throughout the United States. Each photo feature is coupled with a brief explanation.
For further detailed information, links to other related sites are provided.
Holly River Upper Falls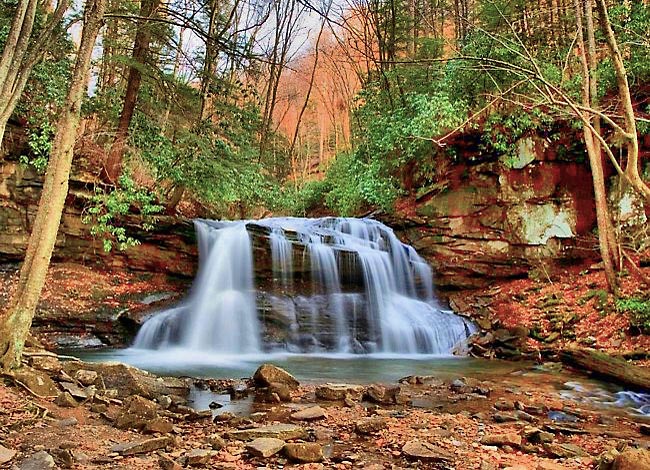 One of West Virginia's largest state parks, located in a narrow valley east of Sutton and I-79, is adorned with a handful of waterfalls. Holly River State Park spreads over 8,000 acres, interlaced with 40 miles of trails. These hiking trails are cut through a heavily forested countryside. These trails lead to Tenskwatawa and Tecumseh waterfalls, named for two legendary Indian chiefs. One of the most scenic sites is found on the Potato Knob Trail. Lacking a dramatic name as the park's Indian chiefs, the Upper Falls of the West Fork of the Holly River is still the most picturesque falls in the park.
The Recreation Trails Program constructed an award winning trail and boardwalk to the Upper Falls. Here, the trail is now accessible for all; the old and young, as well as those with disabilities. The boardwalk also cuts down on hillside erosion, as foot traffic is confined to the steep stairs, instead of a path over extreme grades. The Potato Knob Trail also leads to Shupe's Chute, another waterfall on the loop trail that's carved into area bedrock. The trail climbs further to the 2,480 foot summit, a trail that will test your endurance.
Copyright ©2009 Benjamin Prepelka
All Rights Reserved