Scenic USA - Virginia
Scenic USA offers a collection of select photographs from a wide variety of attractions, points of interest, historic sites, state and
national parks found throughout the United States. Each photo feature is coupled with a brief explanation.
For further detailed information, links to other related sites are provided.
Manassas Stone Bridge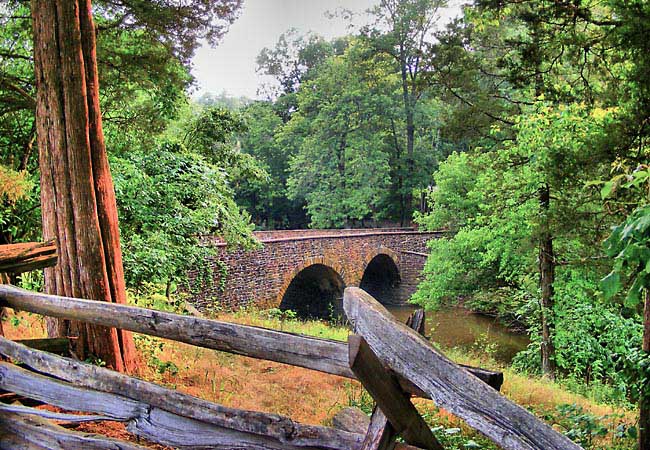 The morning was hot, still and dry. It was summer, July 21st, 1861. Here in Manassas, Virginia, not far from the U.S. Capitol, the burst of mortar fire broke the calm at 5:15. The first major land battle of the Civil War had begun. Union troops launched a diversionary attack across the Stone Bridge over Bull Run. Well before dawn, the majority of the Pope's Union columns gathered upstream, hoping to outflank the Confederates at Sudley Ford. Their surprise attack was slow to develop.
Across Bull Run on the Confederate side, E.P. Alexander caught a reflective glimpse of the morning sun. Soon, he saw more and more glitter from bayonets and musket barrels. He quickly signaled his troops using wig wag flags, look to your left, your are turned. Confederate Colonel Nathan Evans left a small contingent of his forces at the bridge, and set off to address the heavy attack at Sulley Ford.
Late in the day Major General John Pope's forces were driven back across the Stone Bridge, back to the main forces around the Capitol.
Today the repaired Stone Bridge is one of the Manassas National Battlefield landmarks, one of the many battle sites of the five years war between the North and the South.
Copyright ©2009 Benjamin Prepelka
All Rights Reserved