Scenic USA - Vermont
Scenic USA offers a collection of select photographs from a wide variety of attractions, points of interest, historic sites, state and
national parks found throughout the United States. Each photo feature is coupled with a brief explanation.
For further detailed information, links to other related sites are provided.
Isle la Motte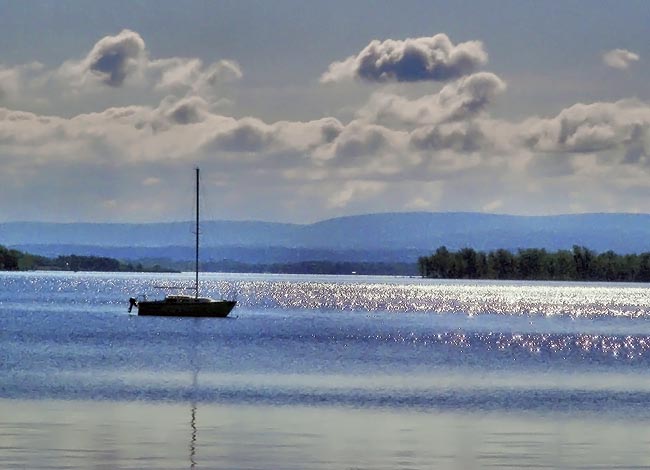 Samuel de Champlain, father of New France, made twenty-nine journeys to the New World, first joining a fur-trading expedition in 1603. By promising Henry IV additional expedition reports, Champlain gained passage on a second trip to a St. Croix Island settlement. Further exploration landed Samuel Champlain on the Isle of La Motte in 1609. Lake Champlain, surrounding the island bear his name today, and pays tribute with a lakeshore statue.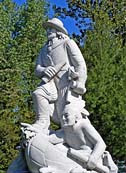 In 1666, a French built fort offered settlers protection from Native Americans. The fort, plus a 300 man contingent fell under Sieur de la Motte. A shrine was built there, and Jesuit priests lead services for the fort's troops.Over 200 hundred years had passed when the Roman Catholic Diocese of Burlington acquired the St. Anne site and constructed a replacement shrine. Today, the Shrine to St. Anne is one of the most popular stops on the island.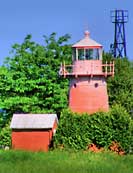 One of a string of Hero Islands, Isle la Motte is surround by Lake Champlain waters. One of the island's first lighthouses was simply a lantern placed in a second story window. Today's Isle la Motte's Lighthouse, built in 1880, belong to private owners. The Clark family, owners of the 25 foot cast tower, agreed to U.S. Coast Guard plans to relight the lighthouse, left in darkness for 70 years. The re-lighting ceremony attracted over 300 lighthouse fans on October 5, 2002. The beacon's orange paint has faded over time and is now affectionately called Nantucket red.
Copyright ©2009 Benjamin Prepelka
All Rights Reserved