Scenic USA - Arizona

Lake Pleasant
---
---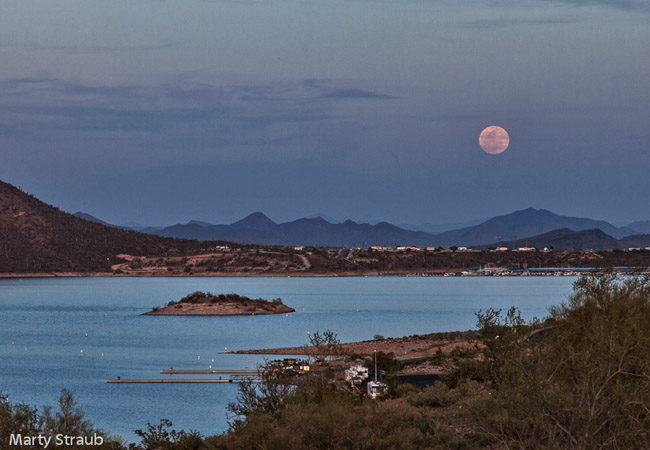 Boasting one of the largest regional park systems in America,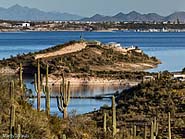 Maricopa County features more than 120,000 acres of open parkland. Here in the Sonoran Desert Region, residents of the Phoenix metro area may enjoy park campgrounds, nature centers, picnic areas, wildlife viewing and miles of hiking trails. Described as Peoria's Jewel of the Desert, Lake Pleasant Recreational Park offers a 10,000 acre playground for water related activities.
   Once serving the agriculture community with a water supply for farmland irrigation, Lake Pleasant was expanded with construction of the Central Arizona Project Aqueduct, diverting water from the Colorado River.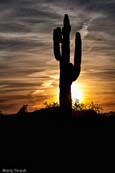 After the New Waddell Dam was completed in 1994, the lake area nearly tripled in size. When an area drought lingered during the turn of the century, it took more than 10 years for the Agua Fria River and water from the Colorado River to bring the lake up to full capacity.
   Today the lake is a vital source of water for the growing metro area and doubles as a major recreational mecca. Area docks, marinas, and boat launch ramps see a steady stream of jet skiers, sailors, windsurfers, water-skiers and anglers. One of the few large bodies of water inland, the lake is also a popular stop for scuba divers.
   The park's beautiful lakeside views and mountainous landscapes have attracted a growing number of residential communities. Paying little regard to scientific drought warnings, Peoria's visions of expansion and rapid growth have failed to stir any serious environmental concerns.

    Area Map
---
---
Copyright © 2013-17 Benjamin Prepelka
All Rights Reserved