Scenic USA - Missouri
Scenic USA offers a collection of select photographs from a wide variety of attractions, points of interest, historic sites, state and
national parks found throughout the United States. Each photo feature is coupled with a brief explanation.
For further detailed information, links to other related sites are provided.
Old St. Louis Courthouse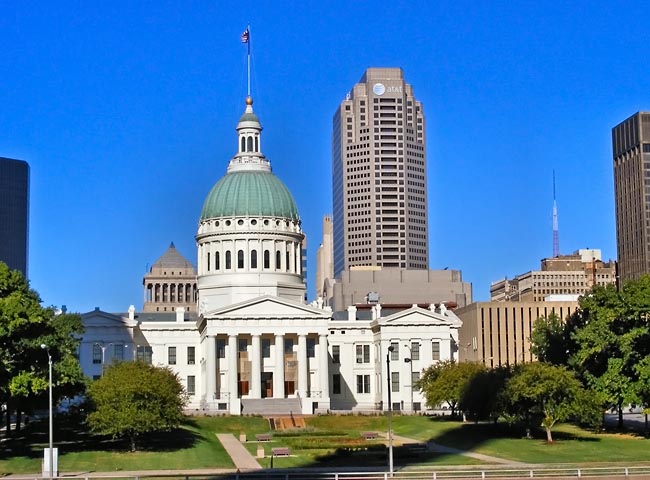 The Old Courthouse in St. Louis may look like a capital building, fooling many first time visitors. Most visitors are found across the street as the St. Louis Arch dominates the skyline and attracts full attention.
Construction on this Greek Revival style courthouse building began in 1839, alongside the 1826 original. By 1852, courthouse expansion replaced the first courthouse. Official courthouse functions ceased in 1930, but witnessed one of the most famous trials in American history. It was here in the Old Courthouse where Dred Scott filed his first suit. Although the Scott's won the 1850s decision, it wasn't the end. In 1857 the U.S. Supreme Court decided the Scotts had no right to bring suit into a Federal Court on any matter. Although finally set free by his original master, Dred Scott lived only a short time with his new found freedom. Dred Scott never saw the beginnings of the Civil War, but initially brought the slavery issue to court and to all America.
The Old Courthouse, with its stately rotunda and murals, an unusual spiral staircase, and interesting gift shop, is packed with themes of early American history. It's a shame that most Gateway Arch visitor bypass this educational experience.
Copyright ©2008 Benjamin Prepelka
All Rights Reserved