Scenic USA - Pennsylvania
Scenic USA offers a collection of select photographs from a wide variety of attractions, points of interest, historic sites, state parks and
national parks found throughout the United States. Each photo feature is coupled with a brief explanation.
For further detailed information, links to other related sites are provided.
Rockville Bridge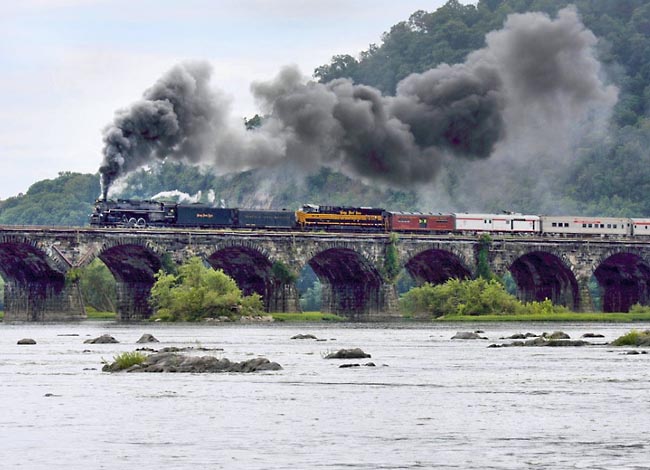 Often claiming the status of the longest arch bridge in the world, the Rockville Railroad Bridge measures 3820 feet as it spans the Susquehanna River. Its 48 arches, a masterpiece of railroad bridge engineering, support four sets of tracks. Built by the Pennsylvania Railroad, the two year project was completed in 1902. Here, just north of Pennsylvania's capital city, the bridge remains an important link between the east and west, and the major cities of Philadelphia and Pittsburgh.
As railroads increased their frequency of travel, increased tonnage and number of freight cars, bridges on the route began to give way under the stress. Touted by chief engineer of the PRR, William Henry Brown pushed for stone arched bridges all along this primary artery. On the Rockville span, bridge construction employed 800 workers, used 220,000 tons of stone, and 600,000 barrels of concrete. Built to last forever, the bridge performed valiantly for nearly a century. However, on August 19, 1997, a weakened pier 19 gave in, sending the spandrel wall, ties, rails and four 100 ton hopper cars into the Susquehanna River. Cleanup and repair nearly totaled the entire cost of the original bridge. Crews have since repaired, strengthened and re-braced this important link.
Copyright ©2010 Benjamin Prepelka
All Rights Reserved