Scenic USA - Alaska
Scenic USA offers a collection of select photographs from a wide variety of attractions, points of interest, historic sites, state and
national parks found throughout the United States. Each photo feature is coupled with a brief explanation.
For further detailed information, links to other related sites are provided.
Susitna River Valley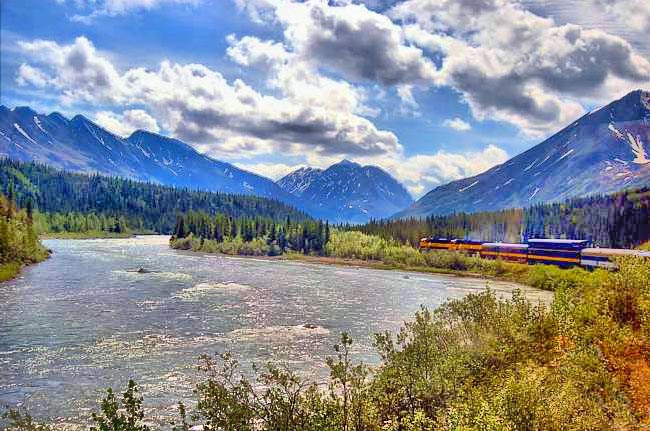 In this truly wild landscape view, the Alaska Railroad offers an up-close look at the fast flowing Susitna River (sand river), its surrounding Alaska Mountain Range and the nearby Talkeena Mountains. The Susitna is a sportsman's paradise, with runs of Coho and Chinook salmon, although the only river access is by boat or floatplane.
Here, the railway makes its way, once a day, along the Susitna River Valley toward the small town of Talkeena. In this mountainous region the natural route follows the river valley and logically the 360 mile highway, Route 3 from Anchorage to Fairbanks, follows a similar path as the railway. To the north, the railroad picks up the Nenana River Canyon and cuts through Broad Pass, the highest elevation along the way at 2,363 feet. This route is the only access to Denali National Park and Preserve. The park hosts the highest mountain in North America, the 20,300 foot tall Mount McKinley. The 600 million acre park can be reached by train from Anchorage, taking about eight hours.
---
Copyright ©2007 Benjamin Prepelka
All Rights Reserved