Scenic USA - New Mexico

Classical Gas Museum
---
---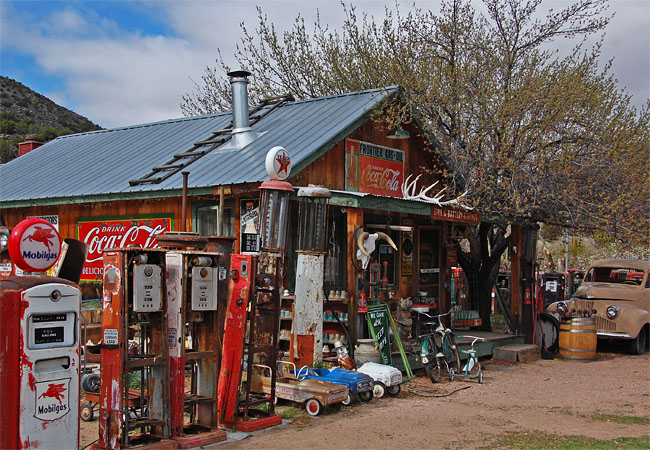 Two routes lead northward from the Sante Fe area to one of New Mexico's most famous pueblo towns, Taos. Scenic Route 76, often called the Highroad to Taos, winds through the Sangre de Cristo Mountains and passes a string of 400 year old pueblo villages. Route 68, an alternate highway to Taos, follows along the scenic Rio Grande River Valley. It's here along the Rio Grande in Embudo that Johnnie Meier decided to set up his Classical Gas Museum.
   Upon discovery of the very flexible Rio Arriba County zoning laws, Meier filled the two acre property with a unique collection of antique gas pumps, neon signs, soda machines, oil cans, vintage trucks and cars, plus an untold number of bric-a-brac items. The museum collection has steadily grown over the last 25 years.
   Johnnie grew up as an Air Force brat. And while constantly on the move, his long trips through the states included plenty of filling station stops. Left with this indelible experience of Route 66 style travel, Johnnie pursued his passion full time after retirement from the Los Alamos National Laboratory.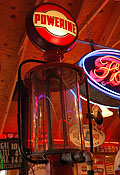 Collection journeys have taken him all over the Southwest and as far east as Alabama.
   One of the highlights on Route 68, the 1000 square foot museum is nearly impossible to pass up. Alerted by his faithful watch dog Tortilla, Johnnie breaks loose from his latest restoration project (such as the Valentine Diner) to greet his visitors. Always surprised by the colorful array of vintage items, ranging from a Powerine gas dispenser (inset) to a tub filled with bottle caps, visitors from around the world begin to show their appreciation of Johnnie's unique collection with a resounding "WOW!" Passionate about his art, Johnnie In Rust We Trust Meier enjoys retelling the Classical Gas history. After all these years, Johnnie is still surprised at the number of folks that have a fond connection to a particular gasoline brand.

    Area Map
---
Additional Areas of Interest
---
Copyright © 2007-16 Benjamin Prepelka
All Rights Reserved