Scenic USA - North Carolina

Lighthouses of the Outer Banks
---
---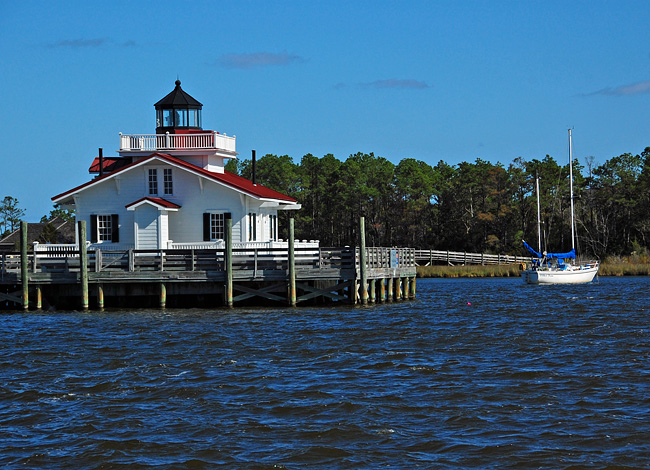 Photos by Amanda Haddox, Jack Ryan and Ben Prepelka

Wind, waves, that distinctive fresh sea air and pristine beaches without a soul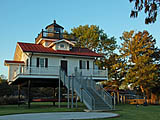 in sight make the Outer Banks one of the special coastal destinations in the East. Stretching along the North Carolina coast for over 150 miles, from Corolla to Lookout Bight, the Outer Banks is a natural stage for seaside lighthouses.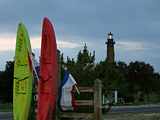 Along with coastal wildlife and the historic sites at Fort Raleigh and Roanoke's Lost Colony, this collection of Outer Banks lighthouses create enough focal points to entice visitors to explore the entire region.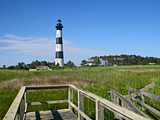 Starting inland on the Albemarle Sound, where two replica lighthouses capture the flavor of this lighthouse tour, coastal visitors may take up-close tours of the Roanoke River and Roanoke Marshes lighthouses. Once on Roanoke Island, where America's first settlers mysteriously disappeared in 1590, it's only a short drive from Roanoke Marshes Lighthouse to reach the Outer Banks.
To the north lies Corolla, the northern most section of North Carolina's Outer Banks. Built in 1875, the Currituck Beach Lighthouse was final tower to light the 150 mile stretch of fragile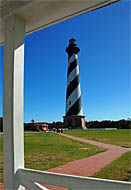 islands. Southward past Nags Head and the Wright Brothers Memorial at Kitty Hawk, the next island lighthouse is on Bodie Island. Undergoing a complete restoration, the 150 foot tall Bodie Island Lighthouse will appear again as it had when first built in 1872.
One of the most familiar lighthouses, with its spiraling black and white stripes, stands at 208 feet.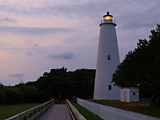 One of America's tallest lighthouses, the Cape Hatteras Light was completed in 1870.
Heading southward to see the state's oldest operating lighthouse, be prepared to do a little island hopping. Although not open for tours, the Ocracoke Lighthouse and island are accessible by state ferry.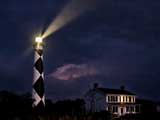 The last lighthouse on the island chain lies at the southern extremes of this long, thin strip of sand. Out from the mainland at Beaufort, ferry services depart from Harkers Island and arrive near the lighthouse. Even though the Cape Lookout National Seashore is located on the Core Banks, some consider this 56 mile long island chain the Southern Outer Banks ... and the Cape Lookout Lighthouse marks the tip at Cape Lookout Bight.

Area Map
---
North Carolina Lighthouses
---
Copyright © 2013-15 Benjamin Prepelka
All Rights Reserved