Scenic USA - Florida

Three Soldiers Monument
---
---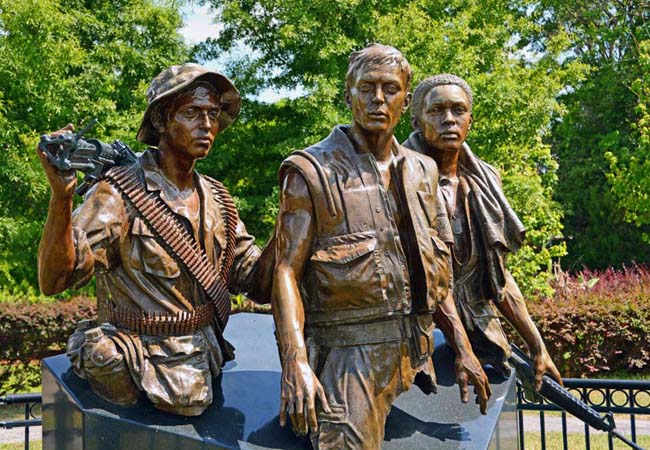 It took America years before its misconceptions about the Vietnam War were cleared, and decades before American Soldiers were accepted as heroes.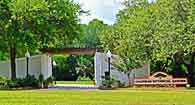 For most of America the ugliness quickly faded from memory after the war, but for the Vietnam Vet, their nightmares continued. Brought into the home each night on national news, the worst views of this unpopular war were shown nightly on television. Urban legends portray our returning veterans as hated baby killers, often disgraced and unwelcome in VFW Halls. Some Vietnam Vets began to bury their past, no longer proud of their uniform.
   Never receiving a real hero's welcome, today Americans are doing their best to right this wrong. Here in Apalachicola, Fredrick Hartís artwork gives a hero's salute to the Vietnam Vet. This bronze sculpture, created for the Vietnam Veterans Memorial in the nation's capitol depicts three American soldiers, dressed in the Vietnam era uniforms and equipment.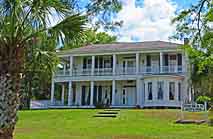 At center, a U.S. Marine commonly wore no shirt in the steamy jungle, only a body armor vest. To the right, a U.S. Army soldier is dressed in an armor vest and tropical combat gear, a Government Issue towel is draped around his shoulders. To the left, the Army soldier dons a boonie hat, tropical uniform and shoulders a heavy M60 machine gun. All three men are based on the actual models, two of which were active duty Marines. Unveiled on Veterans Day in 1984, the Three Soldiers Monument is part of a trio of attractions. All within walking distance, the memorial sculpture, an 1838 antebellum home at the Orman House Historic State Park and the Chapman Botanical Garden greet Apalachicola visitors.

    Area Map
---
| | |
| --- | --- |
| Additional Area Attractions | |
---
Copyright © 2010-16 Benjamin Prepelka
All Rights Reserved