Scenic USA - Oregon

Over the Rivers and Through the Woods
Scenic Byway
---
---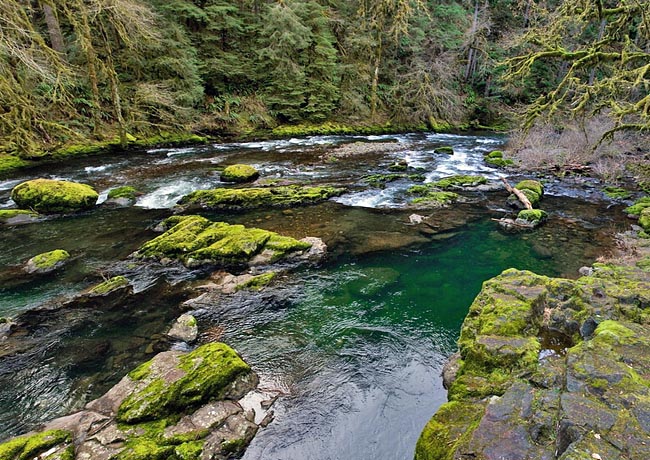 Photo by Alastair Allan
Inset photos by Denny Barnes
In 1840, America's West was a true frontier, with only three states existing in this vast land. Back in the East, economic depression brought on hard times, encouraging a mass exodus of settlers to new lands in the West.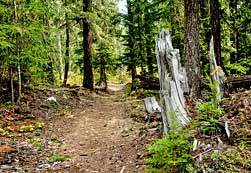 Over a 40 year period, nearly 400,000 pioneers headed for new opportunities westward over the Oregon Trail. While some looked for gold in California, others found the ultimate destination in Oregon and the fertile lands of Willamette Valley.
One of the best ways to see what inspired these 19th century settlers as they moved west toward Willamette Valley is today's Over the River and Through the Woods Scenic Byway. This scene captures the emerald green waters of the South Santiam River. Here in west-central Oregon, the byway follows the river and parallels the old Santiam Wagon Road. Not all families settled in the Willamette Valley, and the wagon route was a way for families to cross the Cascades to visit relatives and gather produce not available in eastern Oregon. The Old Santiam Road was a vital link in early Oregon history, taking travelers nearly a week as they carried all their own supplies and camped along the narrow route. Tree stumps and roots, not Native Americans, were the main obstacles along this one lane wagon trail.
Moving eastward through the Willamette Valley over SR 126 and U.S. Route 20, byway travelers have a much easier time than late 19th century residents.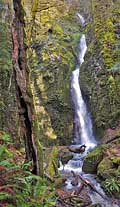 Passing through some of Oregon's oldest towns, Brownsville's Historic Main Street experienced a marvelous preservation effort. Here, some buildings date back to the late 1800s. This 66 mile byway continues on to the logging towns of Crawfordsville and Holley, then on through the Cascade Foothills. Eastward, an overnight stay at Cascadia State Park offers camping sites and a chance to see Cascadia Cave and a large collection of ancient petroglyphs.
Just to the north of the byway, the South Santiam River feeds two popular recreation lakes, Foster and Green Peter reservoirs. As the byway climbs toward Tombstone Pass, the highway gains more than 2500 feet in just seven miles. Just ahead lies the Menagerie Wilderness and Hackleman Old Growth Trail, one of eight walking trails on the byway. Here the highway joins up with two more sightseeing routes, the McKenzie Pass-Santiam Pass Byway and West Cascades National Byway.

Byway Map
---
| | |
| --- | --- |
| Additional Points of Interest | |
---
Copyright © 2010-15 Benjamin Prepelka
All Rights Reserved