Scenic USA - North Carolina

Blue Ridge Parkway
---
---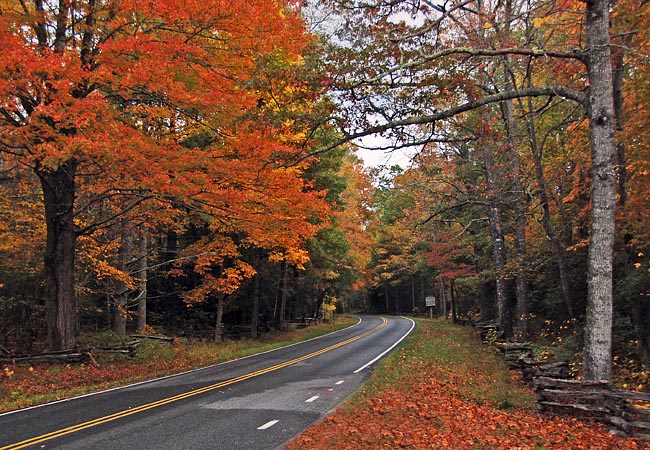 Skipping across the Appalachian mountaintops, the Blue Ridge Parkway is America's second longest and the most popular scenic byway.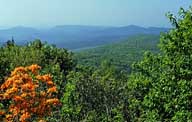 Born out of the Depression Era when President Roosevelt put thousands of young men to work, the Blue Ridge Parkway stands as one of the greatest scenic drives in America. Spanning 469 miles and passing through three states, the parkway stretches from Waynesboro, Virginia, to the Cherokee Indian Reservation in North Carolina. Beginning as a Civilian Conservation Corps project, the parkway has turned into a national park treasure, featuring miles of majestic mountain views and a long list of historic sites. Mountain road pullouts and overlooks,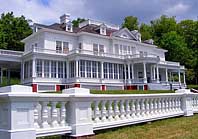 campgrounds, picnic areas and visitor centers are spaced out among some of the most spectacular mountain panoramas in the East. Open for every season, today's travelers will discover some of the same views that early pioneers enjoyed over 200 years ago.
Waterfalls, mountain streams, wildlife, historic sites, and fields of wildflowers are scattered throughout the parkway's endless chain of mountains. This large variety of attractions will keep any parkway guest entertained for the entire length of the drive. Adding a burst of color to any springtime visit, Wild azaleas, tulip trees, dogwood, serviceberry and rhododendron will rival many of the displays of fall foliage.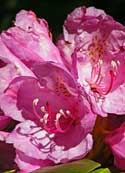 Brightening nearly every mountain vista, showy blossoms catch everyone's attention. Depending on elevation, flowering shrubs and trees on the parkway are found in bloom from mid-May through June.
Less conspicuous than black bears and white-tailed deer, the park's smaller mammals and birds continue to delight most urbanites. History buffs will find a broad mix of historic sites, ranging from one room log cabins to the sprawling Flat Top Manor at the Moses H. Cone Memorial Park. One of the most popular historic stops on the parkway features the historic Mabry Mill. A most picturesque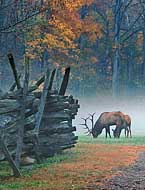 parkway setting, the mill has been the subject for countless photographers since the parkway opened.
With a maximum speed of 45 mph, the Blue Ridge Parkway should be enjoyed as a leisurely drive. Parkway guests are reminded to keep a safe distance from other roadway traffic, as some drivers only have sightseeing on their mind. Watch for animals on the parkway as well. Parkway visitors are also reminded to keep to a safe distance when viewing wildlife. Most of the parkway sites are referenced by mile-marker. Brochures, trail maps and pamphlets are available at all visitor centers and most major points of interest. Because of its many points of interest and great length, the Blue Ridge Parkway will continue to entertain byway travelers and inspire many more visits.

BRP Maps
---
Nearby Points of Interest
---
Copyright © 2009-15 Benjamin Prepelka
All Rights Reserved