Scenic USA - Florida

Fort Jefferson
---
---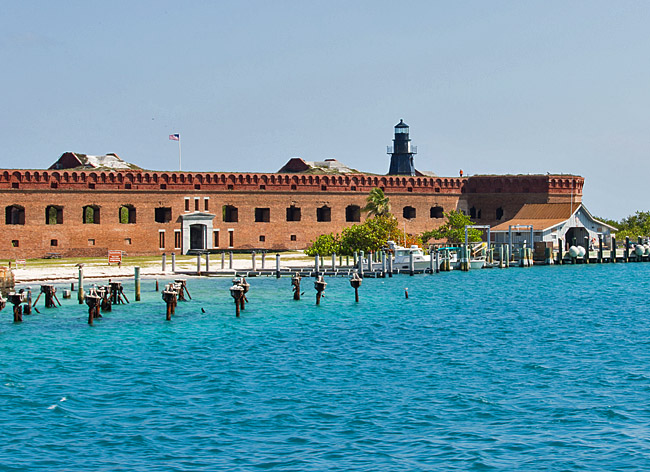 A small group of islands called the Dry Tortugas are located about 70 miles west of Key West.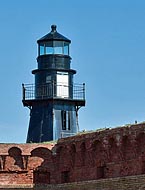 A remnant of a huge coral reef, Garden Key is located beside a main shipping channel which passes in and out of the Gulf of Mexico. This strategic outpost was obtained from Spain, becoming the southernmost territory of the United States in 1821.
    Here in the crystal-clear water of the Florida Straits, the reefs and shallows have claimed hundreds of ships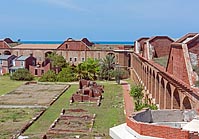 since the first known wreck of the Nuestra Senora del Rosario. Hurricanes, strong currents, variable winds and violent summer thunderstorms have all contributed to the high concentration of shipwrecks. Not long after the United States acquired the islands, efforts to erect a lighthouse on Garden Key began. Although too weak and suffering from a serious design flaw, the Garden Key Lighthouse remained in service for over 30 years, finally replaced by the Loggerhead Key Light in 1858.
   The Dry Tortugas were also protected by Fort Jefferson. Built from 1846 to 1875, Fort Jefferson was one of the largest forts ever conceived. Protecting a deep water harbor and a major shipping channel, Fort Jefferson never reached its initial goals.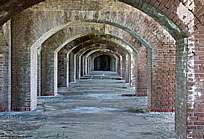 Accessible only by boat or seaplance, the historic Fort Jefferson site is a popular day excursion out of Key West. Fort tours describe the massive construction effort and the remarkable amount of materials used to build the fort. Aside from walking tours of the fort, Garden Key is fantastic area for snorkeling and exploring this underwater graveyard. The under-sea world is littered with anchors, pottery, glassware and cannons. Huge grouper, pompano, lobster, snapper and snook add more excitement to a snorkeling trip.

     Area Map
---
Nearby Points of Interest
---
Copyright © 2013-16 Benjamin Prepelka
All Rights Reserved