Scenic USA - Ohio
Scenic USA offers a collection of select photographs from a wide variety of attractions, points of interest, historic sites, state and
national parks found throughout the United States. Each photo feature is coupled with a brief explanation.
For further detailed information, links to other related sites are provided.
Johnson's Island Confederate Cemetery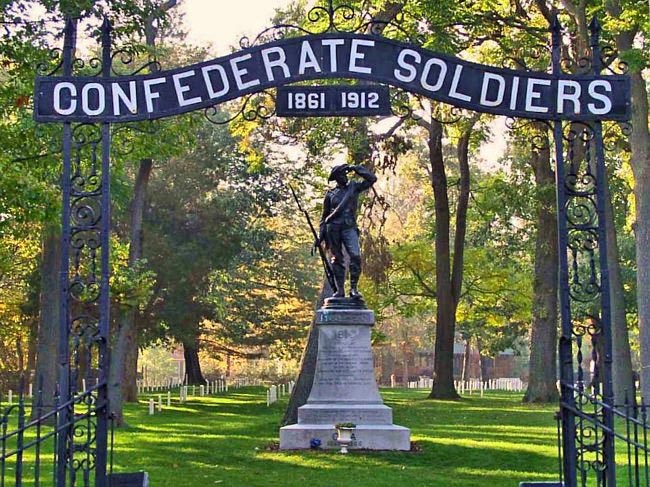 Confederate soldiers, 206 of them, are buried on Johnsonís Island, a former Civil War prison. The island, surrounded by Ohioís Sandusky Bay, took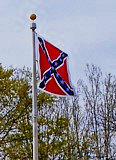 its name from L.B. Johnson who bought the land in 1852. Today, there's not much on this private island except some homes and the remains of what was once Johnson's Island Confederate Officers Prison. No prison buildings are left, but a black iron fence-enclosed cemetery protects the graves of 206 Confederate soldiers who died here, all marked with headstones of white Georgia marble, placed here in 1890.
Guarding the rows of white markers is an impressive bronze statue of a Confederate soldier, sculpted by Sir Moses Ezekiel. As is customary for Civil War statues, the soldier faces north so as not to signal defeat; hence, the soldier looks out into the bay rather than back at the cemetery grounds. Another marker lists the names of the 206 who are buried here (helpful since many of the headstones have become unreadable over the years).
At one time, some 9,000 Confederate soldiers and civilians reportedly were housed on the island, which was chosen because of it offered convenient access for supplies and maintenance, needed for a prison of its size (originally, it was designed to hold 2,500 prisoners). At one time, there were at least 40 buildings outside the stockade, including officers' barracks, barns and stables. From April 1862 until September 1865, more than 10,000 Confederates are believed to have come and gone. Although only 206 soldiers are buried here, some estimates show the total deaths at the prison may have exceeded 300 during the Civil War.
Copyright ©2008 Benjamin Prepelka
All Rights Reserved