Scenic USA - Hawaii

Haleakala National Park
---
---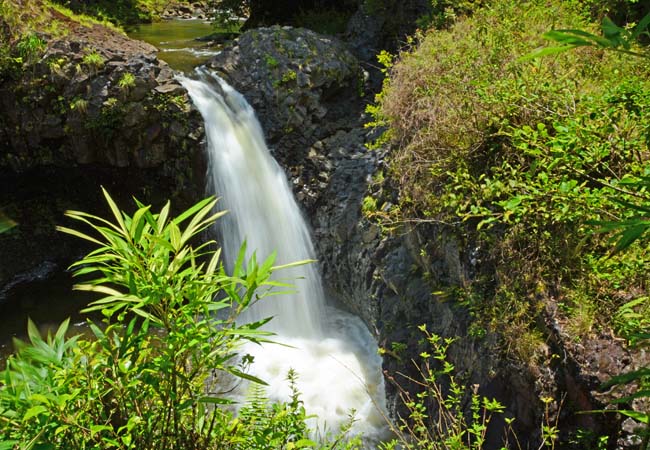 Haleakala National Park, once known as the Hawaii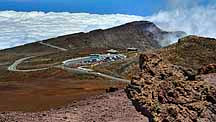 National Park, was established as a separate park in 1960. The Haleakala National Park borders have increased over the years and today include over 30,000 acres, with almost 25,000 acres designated as wilderness lands. Earning a designation of International Biosphere Reserve in 1980, the park's major highlights are Maui's highest peak, Haleakala, and the Kipahulu District, a coastal area near Hana.
These two districts, separated by miles of dense forest, are two entirely different worlds. The summit, just above a perpetual layer of clouds, is much colder because of the altitude and is naturally very windy. Crater Road, a virtual mountain climb, takes about an hour's drive to reach the summit from Kula.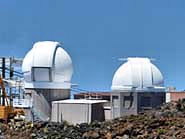 A handful of overlooks along the road offer various viewpoints of the immense shield volcano, were views are dependent weather. Unconnected with the coastal side of park in the east, several hiking trails enter the wilderness area from the summit. Other day use trails lead to broad views of the crater and many of its smaller vents and craters.
Haleakala Observatory, an important astronomical observation site, shares a small area of the summit where its telescopes and equipment are above the cloud tops. Taking advantage of excellent viewing conditions and one of the best places in the world to view the night sky, the University of Hawaii Institute for Astronomy has managed the observatory here on Haleakala for over 40 years.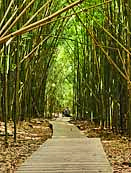 Like a high altitude vapor barrier, the massive Haleakala Crater traps moisture-laden trade winds and replenishes the windward side of the island with essential rainfall. Here on the northeastern coast of Maui, the mountainsides are covered in a tropical forest. A land of lush foliage and 18 major waterfalls, the highway leading to O'heo Gulch at the national park is half the fun. Driving the Hana Highway can be quite a challenge, noted as having over 600 curves and 50 one-lane bridges. Luckily, most of the Maui tourists are all headed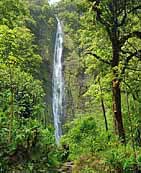 in the same direction, as a trip to the Kipahulu District of Haleakala National Park usually takes a full day.
Two main trails from the Kipahulu Visitor Center allow visitors to explore the park's main features. The Kuloa Point Trail, a half mile loop, follows the O'heo Gulch out to the sea, where you'll find some of the Seven Sacred Pools, plenty of small waterfalls and cascades. The well worn Pipiwai Trail, about a two mile one-way hike, leads inland to the dramatic 400 foot Waimoku Falls. On the way, hikers will pass the beautiful 185 foot Makahiku Falls, several smaller step falls and an unusual section of thick bamboo forest. This exceptional hike, gaining about 800 feet in elevation, will take visitors anywhere between two and five hours, depending on the pace and amount of stops along the way.

Travel notes: Keep in mind there are local residents and day workers that use Hana Highway - sightseers please be courteous to faster traffic.
A smartphone app, called GyPSy Guide GPS Driving Tour, is an incredible way to enjoy a self-guided tour, knowing exactly where you are on the Hana Highway and pointing out just about everything you would want to see and the details behind the stops.
During a trip to the summit of Haleakala, visitors will experience a big change in temperature, so don't forget jackets.

Haleakala National Park Directions
---
Summit District Points of Interest

Kipahulu District Points of Interest
---
Copyright © 2007-15 Benjamin Prepelka
All Rights Reserved