Scenic USA - New Mexico

Churches of the Taos Region
---
---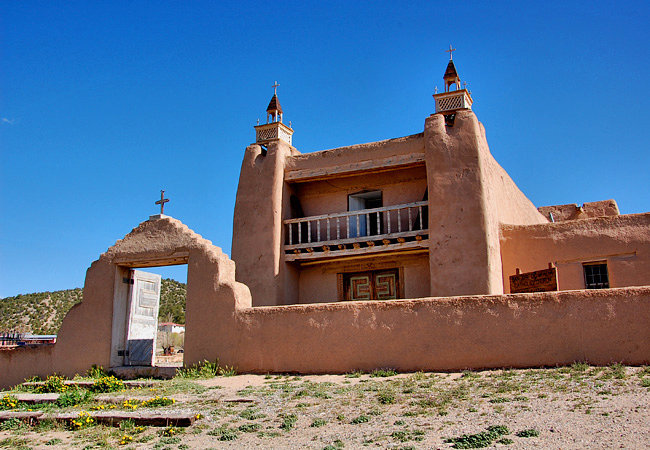 Under charter, granted from the authority of the Spanish Empire, Spanish explorers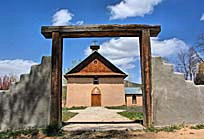 and Franciscan friars moved in among northern New Mexico's Native Americans in the mid 1500s. During the 17th century a series of missions and presidios were built throughout the area to protect Spain's interests in the New World.
   One of the first missions in northern New Mexico was established in San Gabriel in 1598. Here, among 21 distinct Pueblo groups, friars introduced European agriculture, Spanish rule and Christianity.
   A driving tour of the historic churches of northern New Mexico introduces visitors to this melding of two distinct cultures that began over 400 years ago.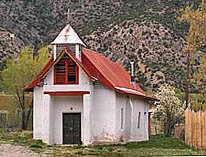 On a tour from Santa Cruz in the south, 24 iglesias (churches) are spread over the Taos Region all the way to the Colorado border. Varying from the large San Jose de Gracia Church in Las Trampas to the humble Nuestra Senora de los Dolores in Pilar, the first churches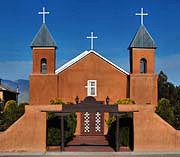 were built as elaborately as possible in order to impress the hesistant natives.
   During the last three decades these marvelous reminders of the past have slowly disappeared. Some were replaced by modern churches, others updated from their original appearance and a few lost to heavy rains. Visiting these historic churches and their small communities can be a rewarding experience. During your visit, the Pueblos ask that you respect their sanctity while enjoying these architectural treasures.

    Taos Region Church Tour Map (Download)
---
Nearby Points of Interest
---
Copyright © 2013-16 Benjamin Prepelka
All Rights Reserved