Scenic USA - Iowa

Dubuque County Courthouse
---
---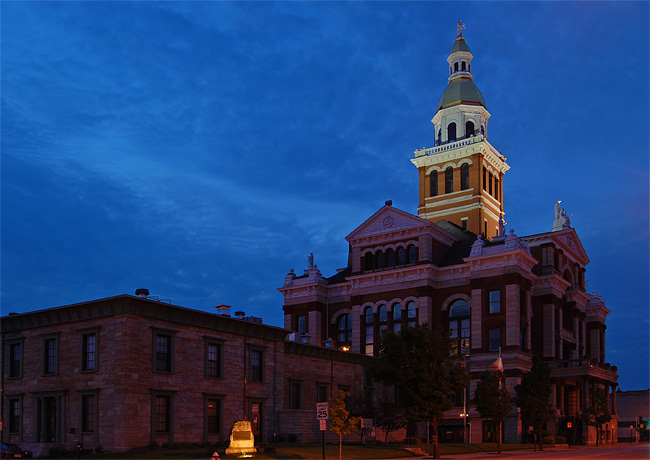 Beginning as a small stream in northern Minnesota, the Mississippi River eventually gathers hundreds of tributaries to make up the largest river system in North America.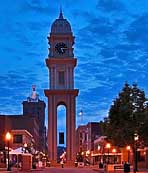 Over its 2500 mile journey to the Gulf of Mexico a network of roads follow both sides of the Mississippi River. Here on the Great River Road Scenic Byway, countless numbers of small towns, big cities, river walks, riverside restaurants and historic landmarks wait to be rediscovered each year.
   In Iowa, byway travelers are introduced to the state's oldest city. Founded by French explorer Julien Dubuque, this major city offers many river related attractions. The National Mississippi River Museum & Aquarium, casinos, river boat tours and the Mississippi Riverwalk are spread out along Dubuque's waterfront. In town, 615 original structures are found among five historic districts. Towering above the nearby buildings on Central Avenue, a 190 foot courthouse tower is topped by a bronze statue of Lady Justice. Built in 1891, the Dubuque County Courthouse was one of the first buildings in town to be honored with its placement on the National Register of Historic Places. Following a Beaux Arts Style of architecture, designer Fridolin Heer added a great amount of detail and elaborate moldings to this public building.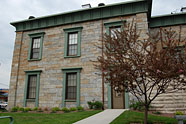 Built of brick and Bedford limestone, the courthouse was once decorated with 12 pewter statues (donated to the war effort during WWII) cut in the classic Greek style. During a late 20th century refurbishment, the dome was gilded with gold leaf, and the Lady of Justice, towering 213 feet above street level, also received a make-over. Adjacent to the courthouse is a rare example of Egyptian Revivalist architecture. Built in 1857, the county jail (inset) now displays Dubuque County Historical Society's most unique artifacts.

    Area Map
---
| | |
| --- | --- |
| Additional Area Attractions | |
---
Copyright © 2012-17 Benjamin Prepelka
All Rights Reserved