Scenic USA - Hawaii
Scenic USA offers a collection of select photographs from a wide variety of attractions, points of interest, historic sites, state and
national parks found throughout the United States. Each photo feature is coupled with a brief explanation.
For further detailed information, links to other related sites are provided.
Rainbow Falls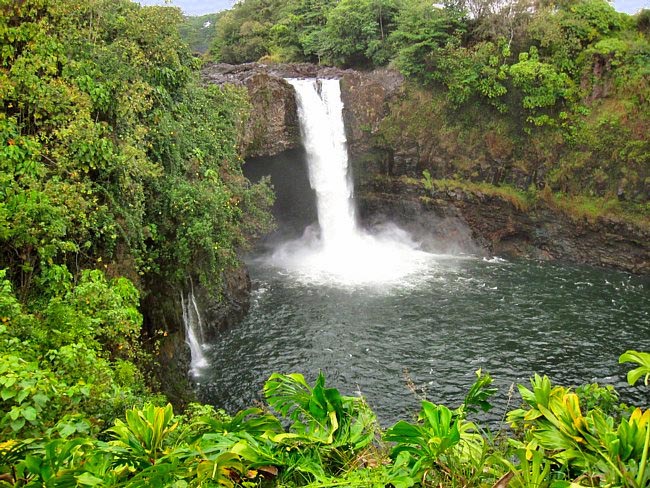 Hilo, the largest town on the Island of Hawaii, also secures the title of being the wettest, receiving over 70 inches of rain a year. Hilo's tropical climate creates the perfect site for lush gardens and rain forests. The Wailuku River, the island's longest river, begins west of Hilo and empties into the Pacific Ocean at Hilo Bay. The Wailuku (waters of destruction) begins its decent from the high mountain slopes of Mauna Kea. The 10,800 foot drop creates a series of rapids and gorgeous waterfalls. Hilo's Wailuku River State Park surrounds the lower reaches of the river and provides close-up views of Pe'epe'e Falls, a set of rapids called the Boiling Pots, and this beautiful 80 foot Rainbow Falls. Morning mist and sunshine add up to an ever-changing rainbow at the falls. A short trip from Hilo takes visitors to this popular stop on the Big Island. The falls area is also the sacred home of Hina, mother of the Hawaiian legend of Maui.
Copyright ©2009 Benjamin Prepelka
All Rights Reserved