Scenic USA - Maine

Bold Coast Scenic Byway
---
---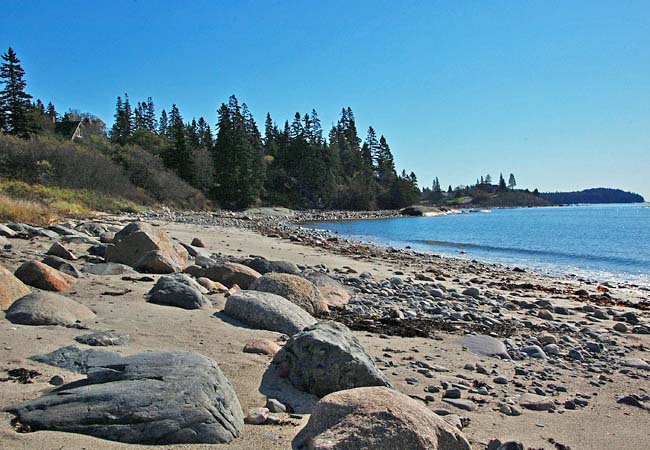 The Bold Coast Scenic Byway, Maine's newest scenic byway, joined the state's byway ranks on June 8, 2011.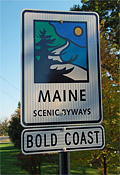 First to see the day (Sunrise County) in America, this eastern Maine road trip passes through coastal fishing villages, blueberry barrens and miles of rocky coastline. The route highlights the natural beauty of the region's great outdoors, plus the cultural and historic features of Washington County coastal communities.
   The byway begins in Milbridge, following the coast over routes 1A and 1 through Cherryfield, Harrington, and Columbia. Starting in Milbridge, bird watchers and lighthouse fans may enjoy a cruise to Petit Manan Island, a national wildlife refuge and home to Petit Manan Lighthouse.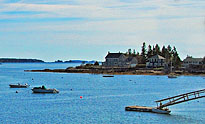 Progressing to the town Columbia Falls, the byway turns southward on Route 187 toward a point on the coast that's surrounded by Western and Chandler bays. Near the tip at Jonesport the byway passes a causeway to Great Wass Island. Here, outdoor lovers may stop to explore Great Wass Island Nature Preserve. A two mile hike to Little Cape Point highlights the rocky coastline, peat bogs, a forest of jack pines, and plenty of shore birds that include the popular puffin.
   The byway rejoins Route 1 in Jonesboro and continues east. A short side trip from Jonesboro heads southward again about six miles from US Route 1 to the town of Roque Bluffs. The day use area at Roque Bluffs State Park provides a picnic area, close-up views of park's dramatic cliffs and a pebbly Atlantic Ocean beach (main photo).
   For lighthouse fans most of Maine's 70 plus lighthouses are best seen by boat.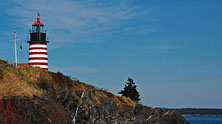 Of the byway's six lighthouses, the Moose Peak, Libby Island, Little River Island and Machias Seal Island lighthouses may be seen from a distance, but best viewed via boat tours. Located just four miles from Route 189, the Quoddy Head State Park features one of the most colorful lighthouses in the country. Located on the eastern-most point of land in the United States, the 200 year old West Quoddy Head Light Station grounds are easily visited on foot. One of the state's most photographed lighthouses, the light station at Lubec ends the Bold Coast Byway in grand style.

    Bold Coast Area Map
---
Nearby Points of Interest
---
Copyright © 2012-17 Benjamin Prepelka
All Rights Reserved