Scenic USA - Mississippi

Natchez
---
---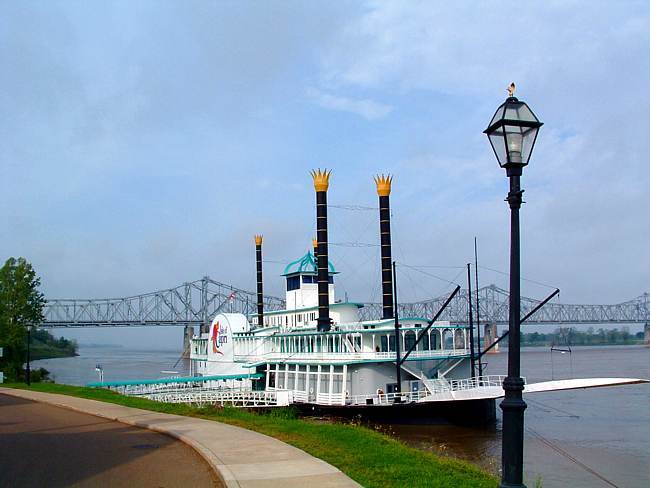 Fort Rosalie, an outpost in the Natchez Territory, was established by the French in 1716.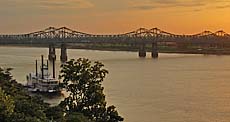 Soon afterward conflicts with area Natives ensued, stirred up by British instigators. The Natchez Indian Tribes had occupied the Mississippi River Valley since the 8th century. Their communities thrived, long before the Europeans set foot on the continent. The Natchez Indians ultimately lost the war and were forced to abandon their homeland.
   The river has always played an important part of Natchez's success. The Mississippi River is one of the busiest in the world, and today's sternwheelers that operate on the river bring back memories of 19th century steamboat travel and storyteller, Mark Twain. Pictured here is a floating gambling ship, where visitors would experience a taste of the rowdy days that have long past. Below the Natchez bluff, the Under-the-Hill party is relived every June.
   Up on top of the bluff, where the City of Natchez overlooks the Mighty Mississippi, historic mansions recall the days when cotton was king.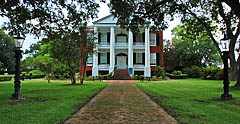 This bustling city and countless fortunes were built on the backs of slave labor. Area plantation owners brought their cotton down to Natchez for export. Here it was loaded onto steamboats bound for New Orleans, St. Louis, New England and Europe. One of the main imports were slaves, and Natchez was one of the most active slave trading cities in America. Funded by the brisk business in the cotton, sugar cane lumber industry, the Rosalie Mansion is one of the fine examples of an Antebelum mansion in Natchez.

    Area Map
---
Additional Points of Interest
---
Copyright © 2007-17 Benjamin Prepelka
All Rights Reserved