Scenic USA - New York

Buffalo Harbor Lighthouse
---
---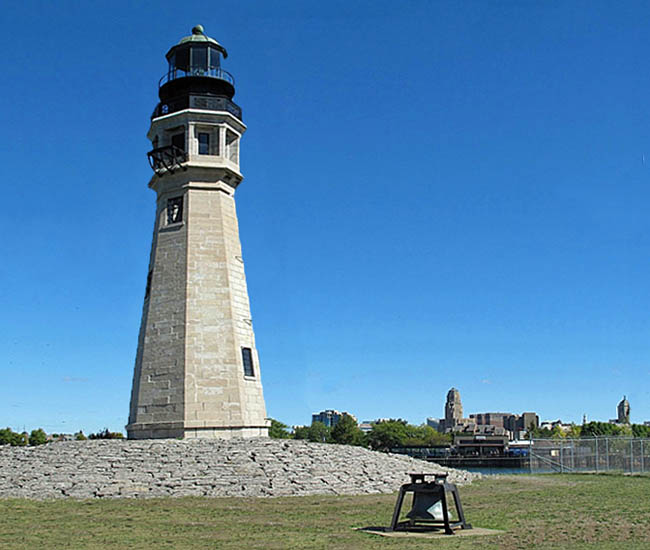 The city of Buffalo owes its good fortune and prosperity to its unique position on Lake Erie. Located at the southern end of the Niagara River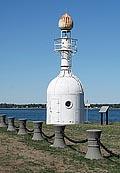 and its junction with the Buffalo River, the area was further enhanced when the Erie Canal linked the Great Lakes to the Hudson River and the Atlantic Ocean.
During the first half of the 19th century, Buffalo was transformed from a small waterfront village to a bustling port, the largest inland port in America. Today's Buffalo waterfront stretches out along the shoreline for over a mile and includes the Buffalo River, City Ship Canal, Lackawanna Canal, Union Ship Channel and the Black Rock Canal. These busy shipping lanes once depended on many lighthouses to mark the harbor entrance and the ends of 4000 foot breakwaters. Range lights, reef lights and channel markers accompanied the main lighthouse.
Completed in 1818 the first lighthouse was deemed too weak to be seen through the smoky skyline. A new lighthouse looked over the busy port in 1833.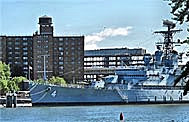 Built of hewn limestone blocks on a stone foundation, the beacon was raised in less than 8 months. By 1852 the octagonal lighthouse earned a third-order Fresnel lens.
Surviving demolition threats in the mid 50s, the Buffalo Lighthouse Association has poured its energy into lighthouse restoration and preservation. Just completed in 2011, the Buffalo Harbor Lighthouse Park shares a 30 acre point with the U.S. Coast Guard Facility. The lighthouse and one of the two cast iron Bottle Lights from the breakwater are the highlights of this six acre waterfront park.

Area Map
---
Nearby Points of Interest
---
Copyright © 2013-16 Benjamin Prepelka
All Rights Reserved