Scenic USA - Florida

Sanibel Island
---
---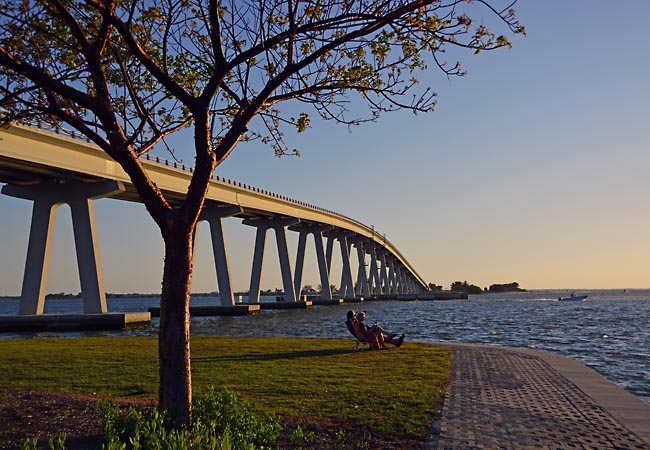 Two of Florida's most famous Gulf Coast islands, Sanibel and Captiva, are best known for white sand beaches and gorgeous turquoise water.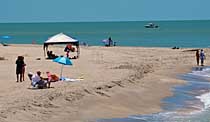 While many vacationers head to this section of the west coast for shopping, live entertainment, fine dining and relaxation, most visitors come to enjoy the great outdoors. Along with its world famous beaches, sailing, jet skiing, boating, eco-tours, golf, fishing and hiking are the favorite activities among island visitors.
   Crossing from Fort Myers to Sanibel Island wasn't always easy. Because the initial causeway and bridge wasn't completed until 1963, a trip to the island included ferry service.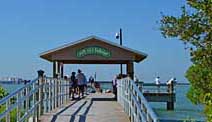 Before the ferry was added in 1928, a few elite tourists were able to enjoy Sanibel Island. The list of famous vacationers included Thomas Edison, Henry Ford, and Charles Lindberg. Once the ferry was in place, visitors drawn to Sanibel's sunny climate and wonderful beaches produced long lines at the ferry, prompting officials to go against the wishes of island residents and build a series of bridges to cross San Carlos Bay. At a cost of nearly three million dollars, Sanibel and Captiva were connected to the mainland with a pencil-thin road. The heavy increase in traffic alarmed island residents, and by 1974 land usage controls were in place. By this time more than 1200 more people had moved in, and old timers could only lament about how they enjoyed the islands in "BC" (Before the Causeway). Today, there's no doubt Sanibel Island is a tourist haven, but somehow it has managed to maintain some of its old island charm.
Its gorgeous beaches haven't changed much, except for the over-crowded parking lots.
   One of the closest beaches to the causeway is Lighthouse Beach Park. As the name suggests, the eastern tip of the island is home to Sanibel Island Lighthouse or Point Ybel Light. Erected in 1884, the lighthouse was designed for function rather than aesthetic qualities. The open iron pipe design was intended to allow Florida's extreme winds to pass through without much resistance. Tested by many storms over the past 130 years, major hurricanes, such as Hurricane Charley, Hurricane Donna and a 1944 storm, reportedly caused the tower to sway. The park also offers a fishing pier and a beautiful crescent beach.

    Area Map
---
---
Copyright © 2006-17 Benjamin Prepelka
All Rights Reserved