Scenic USA - New York
Scenic USA offers a collection of select photographs from a wide variety of attractions, points of interest, historic sites, state and
national parks found throughout the United States. Each photo feature is coupled with a brief explanation.
For further detailed information, links to other related sites are provided.
Niagara River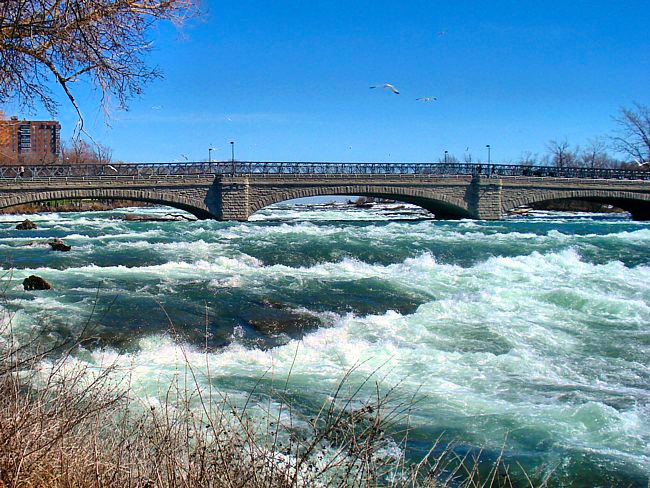 The most famous section of the Niagara River, creating the dividing line between the United States and Canada, is home to three of the most magnificent waterfalls in America. In northwestern New York State, the 35 mile Niagara River connects Lake Ontario with Lake Erie.
Before hydroelectric plants began siphoning off water flow, almost a million gallons of water per second raced along the Niagara River. It's hard to image when viewing this torrent that the amount of water flowing from one Great Lake to another, contains only one percent rainwater. The other 99 percent of the Great Lakes fresh water is 12,000 year old glacial melt. The Great Lakes Basin, carved out by glaciers, is left over from the ice age when North America was covered with an immense ice sheet.
Pictured here is the Niagara River Rapids as its never ceasing waters race toward the American Falls. The Goat Island Bridge (American Rapids Bridge) in the background provides island access, where the river is split into three sections. Goat and Luna islands create three falls of the Niagara, the American Falls, Bridal Veil Falls, and the Canadian/Horseshoe Falls.
Copyright ©2008 Benjamin Prepelka
All Rights Reserved